No doubt every one will be busy with something or the other spending their last moments of the year on the eve of New Year with celebrations going high all across the globe. As always we have had our watchful eyes on whats going in Telecom and to our observation we found that Airtel was the only operator in India to offer support or at least respond over Social Media (twitter) even on the eve of new year.
Let us have a quick look at the twitter time lines of the most active operators on Social Media.
Airtel Twitter Activity : You can clearly see Airtel responding to users even on 12:52am

Vodafone India's Last Twitter Activity : Vodafone at 8:00 pm on 31 Dec 13

Idea Cellular's Last Twitter Activity : Idea Cellular on 9:18 PM - 31 Dec 13

Tata Docomo's Last Twitter Activity : Tata Docomo on 7:25 PM - 31 Dec 13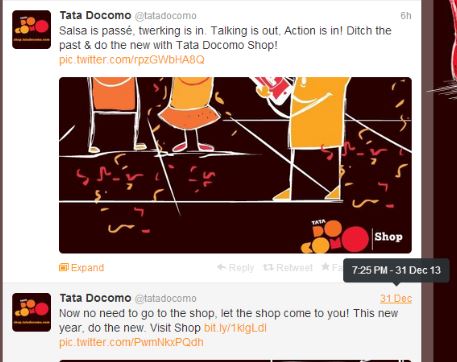 I have taken care to show in the screenshots the last Active status of the operators of respective social handles as well.
Though Network outages can't be avoided in those peak times as all the Voice channels will be over loaded and we face lot of issues for which we can't blamed on any operator.
But during our observation we have come across some embarrassing situations where users started abusing operators in a very bad way due to Network issue.We have come across such a case with Airtel and it was dealt in a way to make short and professional. Well done Airtel !!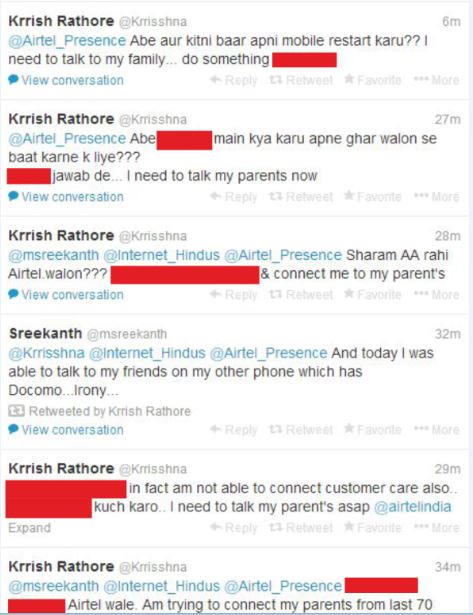 From the above, it is very clear that @Airtel_Presence is the only twitter handle among all the Active Operators on Social Media who is actively taking complaints/responding to their users even during those memorable times.
What do you say Readers? Have you faced any Network outages during the eve of New Year? Do let us know your support experiences by operators via comments .