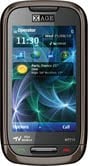 XAGE today announced the launch of first Full Touch Dual sim PDA mobile handset MT 711.
MT 711 comes with exciting features to start with it has a big 3.2" touch screen to give you a larger view to enjoy the visual treat. The 3-D Menu Display and the EDGE gives the handset a very stylish and classy look.
Passing time will be much more easy and entertaining as MT 711 comes with a High Definition MP4 Movie Player / RMVB Video Player and a MP3 Audio Player all this has been put together to make time spent enjoyable watching movies, videos and listening to your favourate collection of songs.
It has an additional feature of Analog TV so that you don't miss your favorite programs, bollywood shows, news and sports MT 711 also comes with FM radio.
MT 711 comes with 3.2 mega pixel camera with video recording, recordings are not limited to video but also sound, you can also record your conversations with your friends and listen to them over and over again the handset is priced at Rs. 5799.