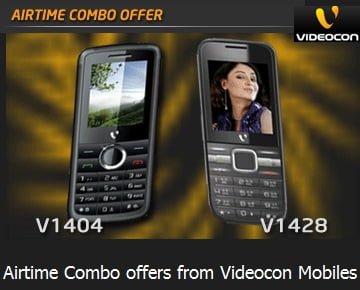 Videocon Mobiles in association with Videocon Mobile Services commences two "Airtime Combo" offers.
Wherein customers get free bundled airtime. The two handsets which are under this bundle offer are V1404 and V1428.
The two handsets come with free VIDEOCON MOBILE SERVICES sim which has a lifetime validity and you also get 10 FREE daily local minutes continuously for 365 days which is 3650 Local minutes FREE. V1404 handset is priced at Rs. 1999 whereas V1428 is priced at Rs. 2, 699.
Videocon's V1404 handset is a dual (GSM + GSM) handset which comes with the capability of dual stand by and also boasts VGA camera with video recording. The screen size of V1404 is 1.8 inches which is a high resolution TFT display.
This phone comes with standard multimedia support by offering support to most popular music formats like MP3/MIDI/WAV/AMR and also supports VGA video recording. This phone supports 500 phone book contacts as well as 500 sms messages.
Though phone memory is too low, you can expand this to 2G with the help of external microSD card. This phone also comes packed with value added features which you will not find even in most advanced phones like this phone has Voice morphing feature and also even LED torch. This handset is packed with a Headset, a USB Charger, a Battery, Travel Charger, User Manual, Warranty Card.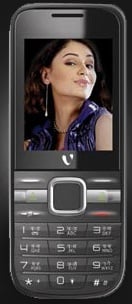 Videocon's V1428 handset too is a dual (GSM + GSM) sim phone which comes with a dual stand by capability with a VGA camera with video recording capability.
This phone is packed with a huge 1800 mAH battery strength which can last for 600 minutes of talk time or 480 hours of standby which is close to a whopping 20 days of standby. This phone also comes with a dedicated music key and with a 2 inched TFT with a resolution of 176 * 220 pixel screen you can enjoy watching your favorite videos too.
This phone can resist a maximum of 400 messages and 1000 phone book entries, though phone memory can be expanded to 4GB via external microSD card. This phone also supports GPRS/WAP and also has Bluetooth facility to transfer all your data.
This phone also has Mobile tracker facility, just in case if you lose this phone you can get it back. This phone is available in two colours, one in Dual Tone Black and other in Burgundy Dual Tone Black and Red. This phone too comes with some value added features like Voice changer, background noise simulation (Recreates the sounds and effects of specific environments i.e. Restaurants / Railway Station etc) and also LED torch. In box contents include a Trans-receiver, Battery, a Headset, Travel, a Charger, User Manual and also a Warranty Card.