Since we first wrote about how BSNL could come back to green back in 2013, lots of things have changed. BSNL is not the old BSNL anymore. Under the able leadership of  Telecom Minister Ravi Shankar Prasad, BSNL is marching fast on the growth path. A profit of Rs. 672 Cr. in FY 2015 marked the beginning of a new era.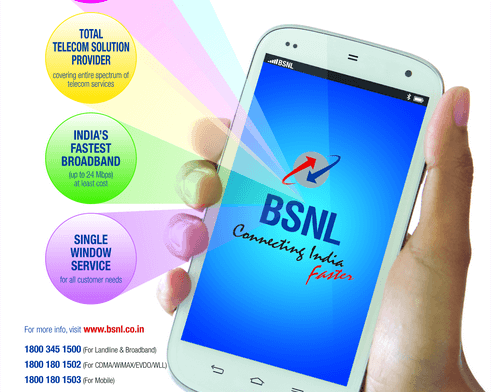 In this post, we examine how things have changed for a BSNL Customer and what more could be done to boost BSNL's growth. Well-crafted tariff plans which are slowly driving tariffs up and reduced voucher validities can be regarded as the prime reasons for BSNL's improving revenues. Another contributor to BSNL's increasing subscriber base is free incoming calls during national roaming. 
Well-crafted Tariff Plans and Reduced Validities
Since 2014, BSNL has been frequently revising the tariffs upward for most offerings in the wired and wireless segment and has also reduced validities of several STVs / data packs. Further, the composition of tariff plans in terms of bundled offerings have changed significantly, like limited free SMS giving way to low cost SMS (0.25p/SMS), reduced free seconds (earlier counted on minutes basis) for the first few days etc. Call rates for most rate cutters are on a per-second basis making cost-benefit analysis tricky! This strategy alone would be a significant contributor to BSNL's revenues.
Tariff revisions are important for sustainability and on a positive note, BSNL's tariffs are still on the lower side when compared to private players.
Improved Customer Support
Customer support over the phone has improved by a huge margin. Some skill development (language, technical) and empowerment of support executives to take decisions without escalating to the next level need to happen.
Though BSNL had social media accounts earlier, they are active only from the past few months. Circle specific handles are not very reliable barring a few. Now tweets to @BSNLCorporate actually get attended to!
What more needs to be Done?
Address Speed and Connectivity Concerns
While minimum broadband speeds of 2 Mbps is being talked about, low-speed complaints are a plenty in case of both wired broadband and 3G Services, outside city limits and in rural regions. 3G sites are still concentrated to serve city / town customers and the network becomes patchy, especially in uneven terrain. It is understandable that ARPU would be the driving factor for deciding cell site locations but that can be more like the chicken-egg problem. Customers would automatically come once they realize BSNL (or any operator) provides better services in a particular area. This is where demographic data and advanced analytics using technologies like GIS come into the picture.
Another reliable approach for BSNL would be to cut down costs. For instance, BSNL still runs telephone exchanges in rural areas to serve less than ten broadband customers. Adding to that such exchanges are short of staff (often on a temporary contract) and lack the expertise to attend to frequent complaints of various types. Customers, therefore, have a poor impression about BSNL due to this. Often customers stick to BSNL in such cases since BSNL is the only operator in the area. This (un)fortunately is the case in several Indian towns and cities where BSNL is the sole wired broadband operator.
The Solution
At least in locations with less number of wired subscribers, BSNL could consider encouraging broadband customers to switch to 3G by providing them a signal booster if necessary and geo-fenced (applicable only when used in a certain radius) data plans similar to their existing broadband plans. This becomes necessary since normal 3G plans work out to be expensive when compared to wired broadband for the same amount of data usage.
This approach can save a lot of costs for BSNL - building rent, equipment maintenance (even power supply can be erratic leading to fuel costs), contract staff salary etc.
Improve Social Media Support
Tweets to @BSNLCorporate get responded to but there is hardly any follow-up. Speaking from my own experience, I got a call from the local exchange after a week of raising the complaint and even they didn't call me back as they promised. As we have noted even earlier, a central twitter handle is a good strategy. However, the central command must take the responsibility of resolving the complaints instead of acting as a place to transfer complaints to respective circles. Private operators are following this method.
Unlike BSNL, the typical responses of private operators are
When a query is raised - @Customer, A customer service representative would get in touch with you shortly

After contacting the customer - @Customer, Hope you had a word with our executive and are happy with the progress

Request for feedback - @Customer, please rate our support on your recent interaction with us <URL>
BSNL needs to learn a trick or two from them!
Self-care Portal
BSNL's self-care portals are proving to be very useful for customers. They could be made even more user-friendly by adding some enhancements. Talking about the BSNL South Zone prepaid self-care, the site requires an OTP to log in. Password-based login could be used or at least users could be allowed to add more phone accounts. In the absence of such a feature, it has become necessary to log in separately to manage different accounts. This feature is also proving to be a limitation when a user needs to check details of a phone number which is not in hand or belongs to family members (Eg. to activate a rate cutter using existing balance).
Revive ad campaigns
While BSNL as a brand is known to almost everyone, BSNL's unique advantages like competitive tariffs are hardly publicized in the recent times. Beyond TV / radio advertising, BSNL needs to focus on avenues like outdoor and digital (social media, targeted web ads with good graphics) campaigns. Approaches like ad-injection (as shown below) must be avoided. They hamper user experience and can be a threat to user's privacy / data security.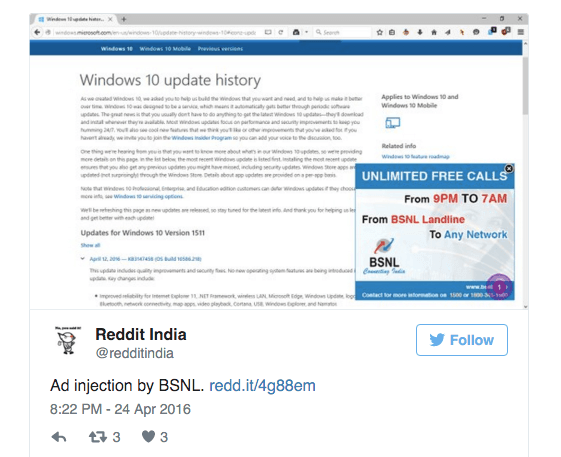 BSNL's complicated tariff structure for different circles and non-uniform plan naming makes it difficult to roll-out a single nationwide campaign. Think of Airtel's My Plan, Vodafone Red campaigns. BSNL has attractive names only at circle levels. At a national level, it is Plan-<amount> naming.
We hope to see BSNL become the first preference for any telecom services. Do you think BSNL is changing for good? Let us know the changes you have seen / experienced.