TelecomTalk conducted a Nationwide survey on "What is your monthly consumption of mobile data and what do you use it for?" and we have received responses from all the telecom circles. While the poll is already closed, we have come up with a detailed analysis of the much-awaited results of the survey. Continue reading to know more about the insights.
1.Which Circle you belong to?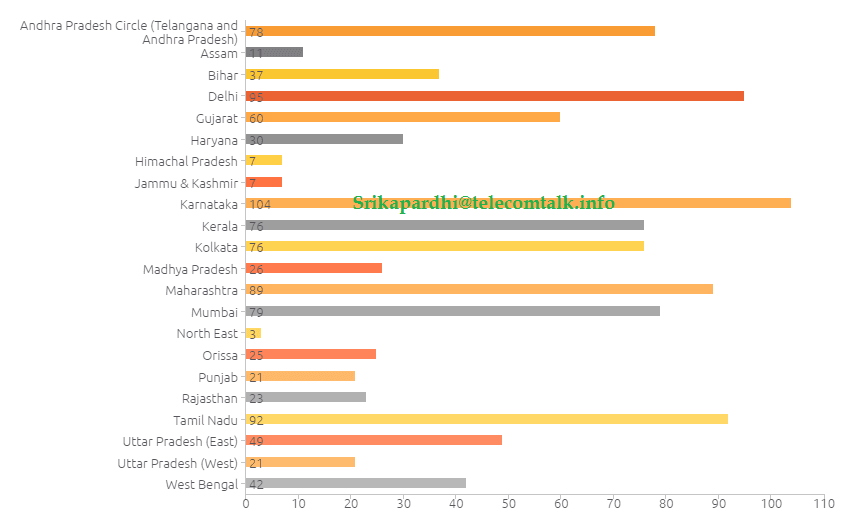 The majority number of respondents were from Karnataka followed by Delhi and Tamil Nadu. The graph above speaks everything about the respondents' of this survey.
2.Which operator are you relying on for your mobile data needs currently?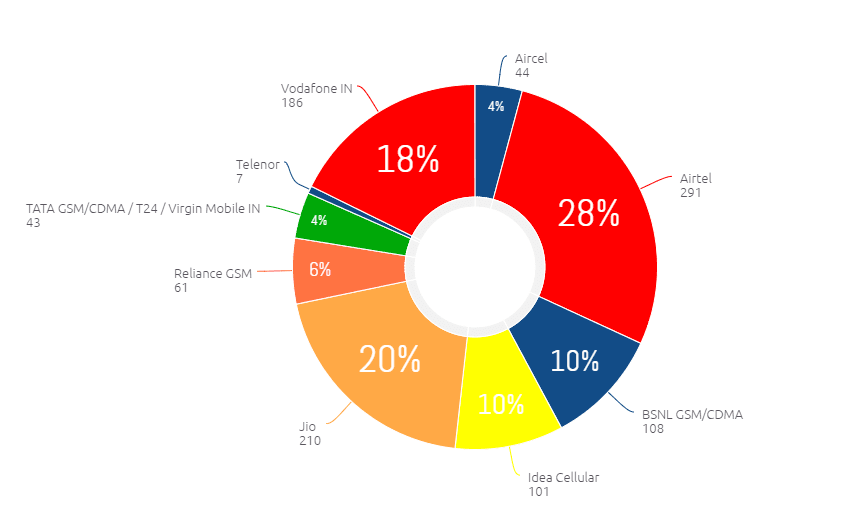 28% of the respondents were relying on Airtel, 20% on Jio Preview Offer, 18% on Vodafone, 10% on Idea Cellular and BSNL respectively at the time of survey. We can also infer that majority of the respondents were already enjoying Jio services. So, this survey also gives us insights of users who enjoyed JPO as well.
3.Which Data pack are you using currently?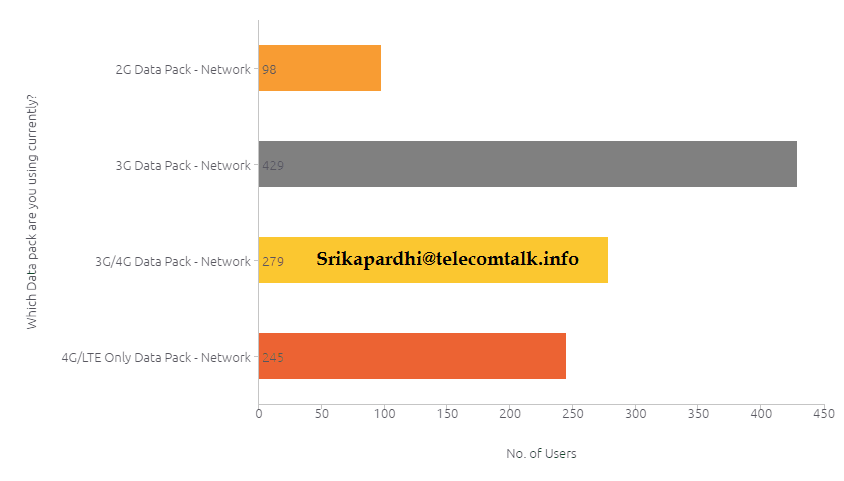 Though operators are providing 4G at 3G prices, I have enabled multiple options just to check how well the concept has dissolved among the customers with 3G/4G or 4G only data packs. It is clear that a majority of users switched to high speed data networks/packs. It is also worth to note that a significant number of users are relying entirely on 2G data services for their data needs on mobile.
4.Are you willing to upgrade to next generation Data services? or on the latest Gen only.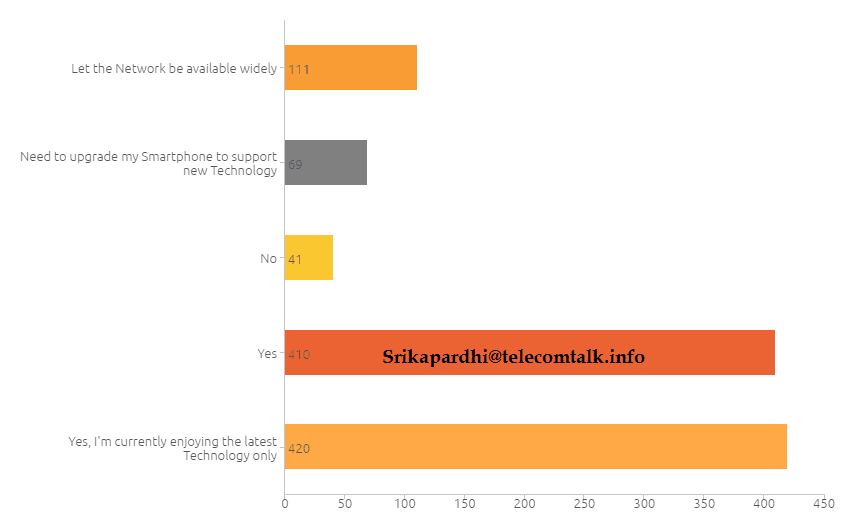 A point that needs to be kept in mind, most of the survey respondents were those kind of users who upgrade to the latest technology available in the market and also experience the same; so are the respondents and so are the results. Majority of the users are currently enjoying the latest technology [3G/4G] available and the next majority of users are willing to upgrade to the next generation data services available. This indicates that most people are inclined towards the next generation technologies and operators need to strive to push the rest of the users to upgrade. A lot of other factors also come into picture to upgrade the users left from 2G services to next generation services.
5.What kind of phone you use?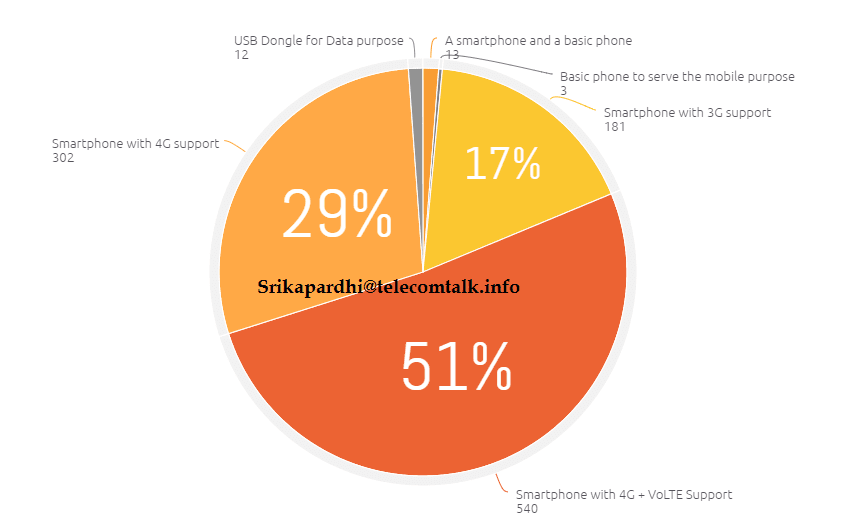 51% of respondents, responded that they use smartphone with VoLTE support, 29% with 4G support and 17% with 3G support.
Also Read : Voice over LTE (VoLTE) simplified for the layman
6.What kind of user you are?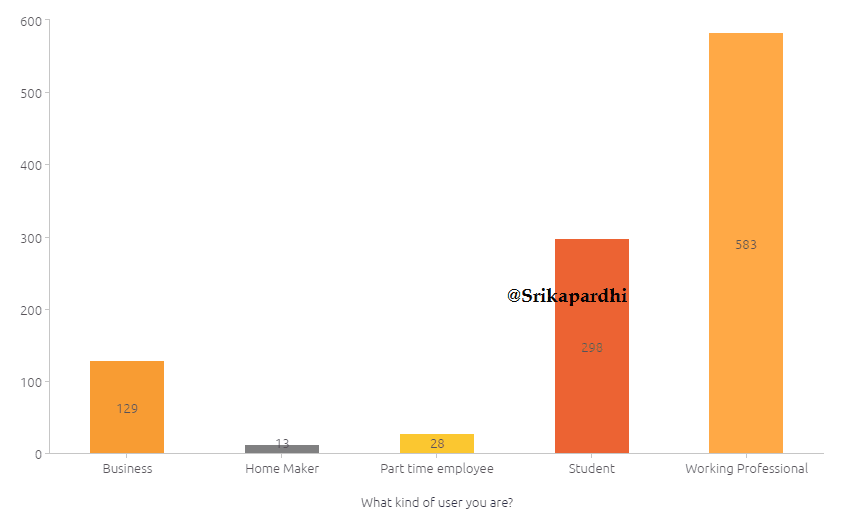 A good indicator of TT readership, major share of the respondents are working professionals, followed by students and business individuals, part time employees and home makers. So, we can assume that the major share of responses were from diversified group of individuals and mainly from working professionals who need premium quality services.
7.You can detail your profession here if not available in the above option.
Diversified Readership of @TelecomTalk , Analyzed from the survey : How do you consume #4G #3G Data? #Telecom #India pic.twitter.com/4joRa8Oz0B

— Srikapardhi (@srikapardhi) August 27, 2016
8.What is the primary reason for you to subscribe Data pack?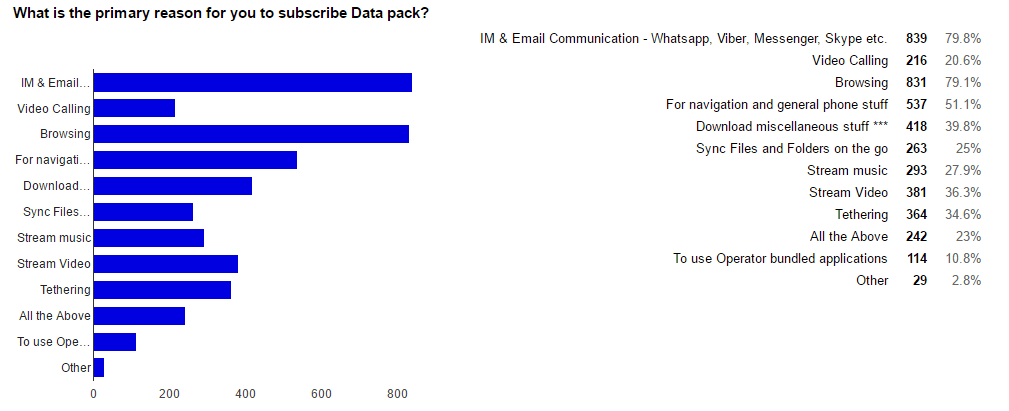 The survey results show that major share 79.8% of survey respondents use mobile data for IM & Email Communication, followed by 79.1% for Browsing, 51.1% for Navigation and general phone stuff. So, the results throw light on the real usage of data on mobile devices. Most of the users use it for communication via IM clients and stay connected all time.
9.How much do you spend monthly on your mobile Data needs?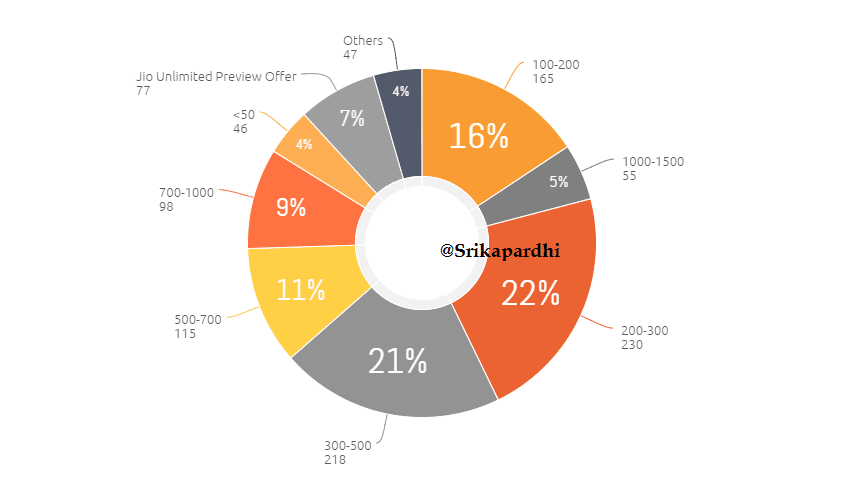 Majority of users [22%] are spending around Rs 200-300 monthly followed by users [21%] spending around Rs 300-500 towards their mobile data needs.  So, this price approximates to 1-3GB data on monthly basis.
10.How much is your monthly data consumption on Mobile?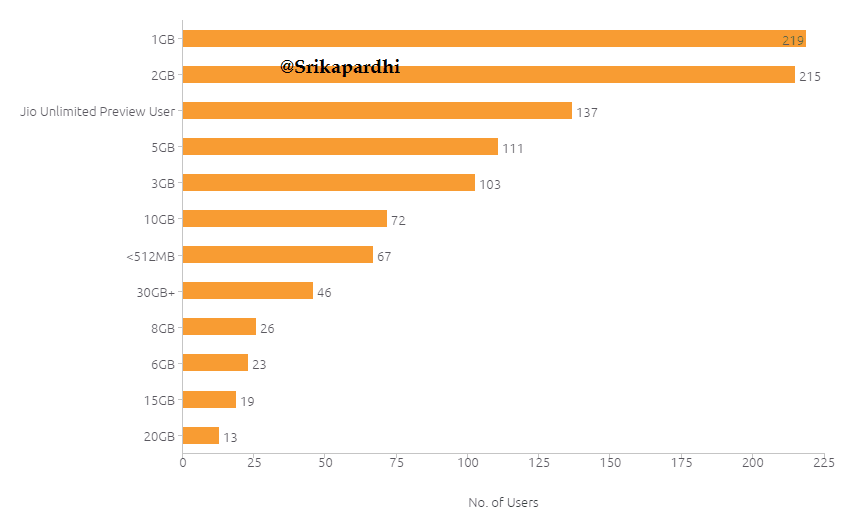 The results of monthly expenditure towards mobile data needs in the above question already gave us a sneak peak of the results for the current question. Majority of the users consume 1-2GB data towards their monthly mobile data needs.
11.How much speed are you experiencing currently on your operator?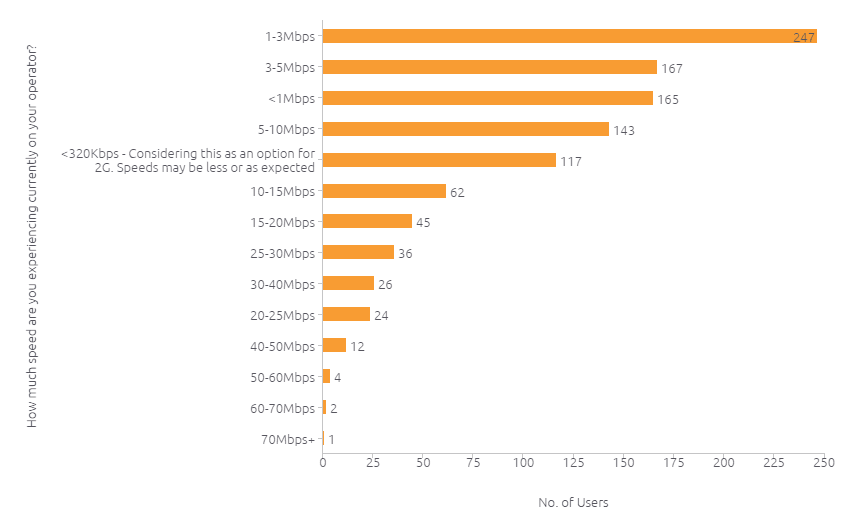 Majority of the respondents reported an experienced speeds of 1-3 Mbps, followed by 3-5 Mbps. It is alarming that next majority of users responded <1Mbps speeds followed by 5-10 Mbps speeds experienced by respondents.
12.How much speed are you expecting on your Mobile from any operator?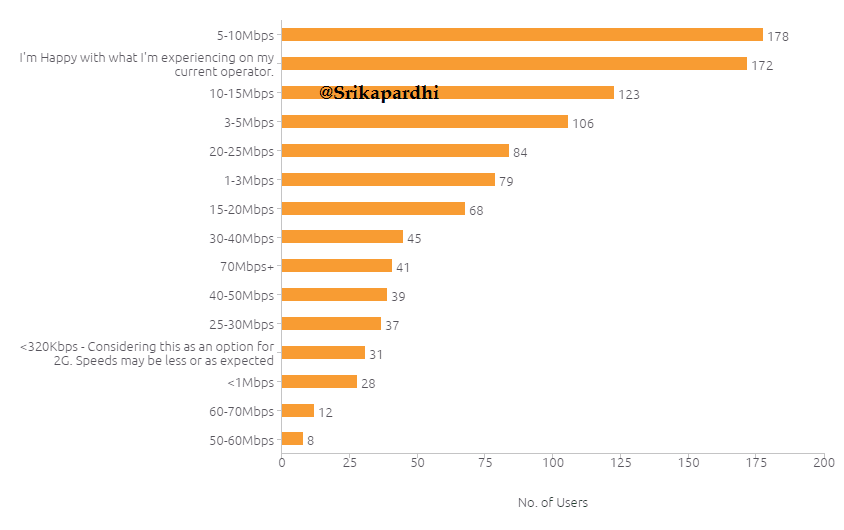 Yes, it can be achieved , 99% satisfaction levels can be achieved by operators comparing the speeds experienced and speeds expected from users. Majority of respondents expect speeds somewhere between 5-10Mbps while the next majority of users are actually happy and satisfied with the speeds they are experiencing on their current operator. It should also be noted that 5-10 Mbps speeds are also the most experienced speeds from the results above. So, a 99% satisfaction levels from customers can be easily achieved looking at the majority of expectations from respondents.
13.How much data you feel will fulfill your usage pattern monthly?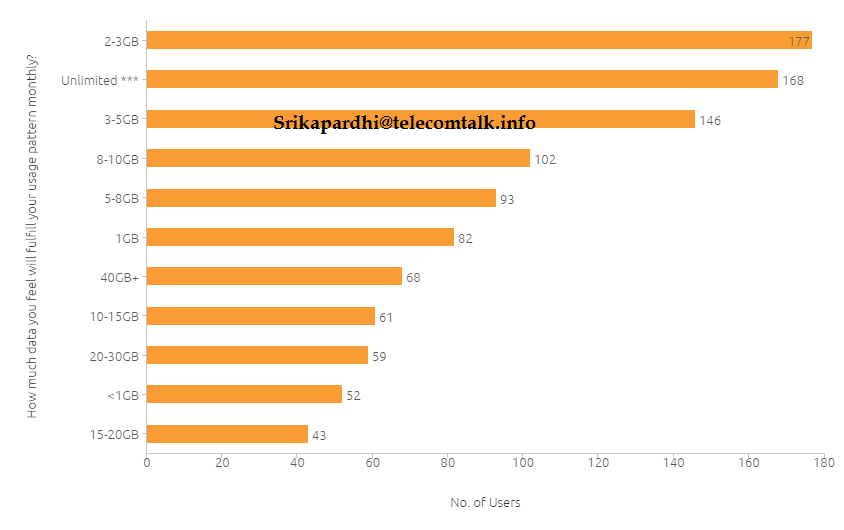 From the usage pattern, the data consumption can be predicted. A simple 2-3GB for IM, emails, browsing, music streaming, navigation and general phone purpose which includes updates and phone synchronization consumption.
HD Audio/Video streaming and tethering cases can be considered in high consumption usage scenarios.
14.What do you use high speed on your mobile for?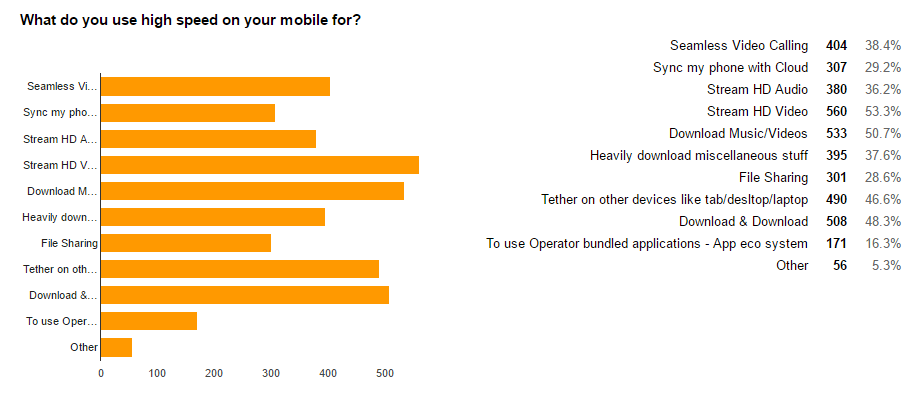 Streaming HD video on mobile is the next big consumption scenario users are exploring as per the reportings, followed by Music/Video Downloads and tethering in most cases.
15.Do you use WiFi on mobile at home or work ?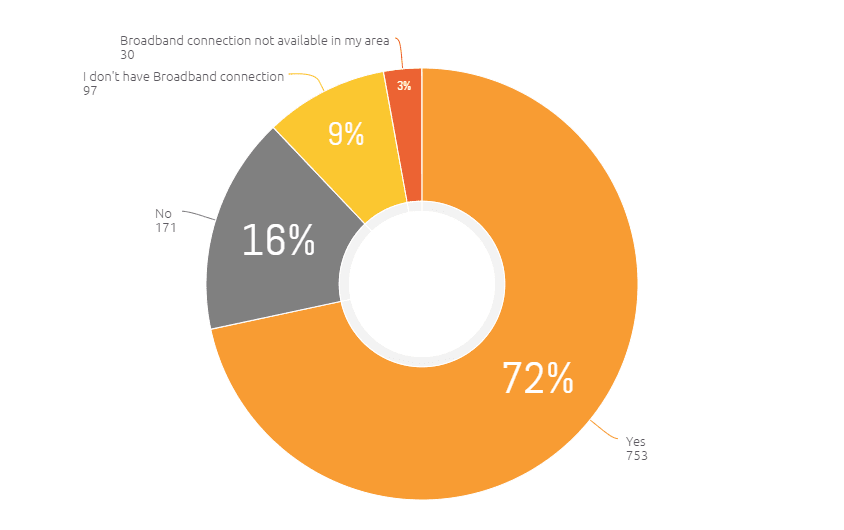 72% of respondents reported that they use WiFi at home and office to offload mobile data services, and only 16% reported that they don't use WiFi at home or office. This shows that users are already offloading their services from mobile to WiFi on proactive basis to reduce costs/battery consumption on their mobiles.
16.Are you happy with the Qos related to Data provided by your current mobile operator?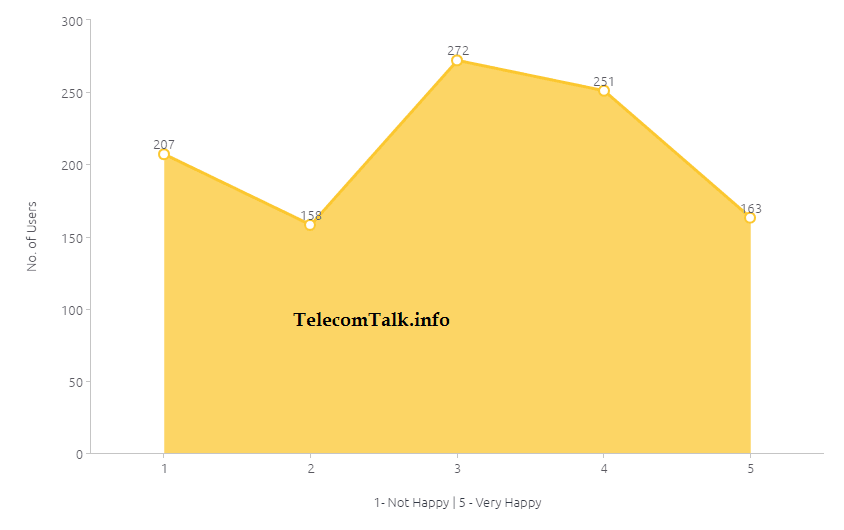 A distributed rating on a scale of 1 to 5; to elucidate, majority of users are neutral to the quality of service, while the next major share fall on the higher satisfaction levels side.
Overall, this gives an idea that majority of the users have neutral and above average satisfaction levels on the Qos front from their current mobile operator.
17.Do you think you are getting the Data/Quality worth for what you have paid?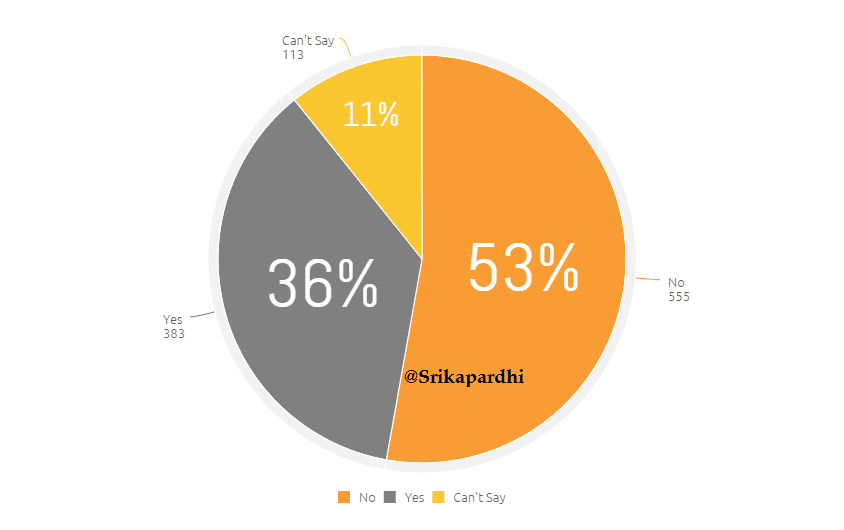 It's alarming that 53% of the respondents feel they are not getting the Data/Quality worth for what they have paid followed by just 36% on positive side while 11% respondents can't comment on the Qos.
Dear readers, what do you feel about the survey and insights reported in this analysis? Do let us know via comments or tweet me @Srikapardhi.
Note : This survey is based on the inputs received from TelecomTALK readers across India. The results and analysis are only derived from the survey inputs received and hence no personal opinion or interest is involved. The results and analysis are just assumptions from the survey inputs and may or may not depict the actual market scenario. The survey is just to analyze the pulse of consumers across India. Care is taken to avoid any significant change in the result graphs or numbers from the inputs received. Manual work involved may or may not contain errors.