Its all over the news from east to west and from north to south its making the news. The launch of 3G services by private operators has been a much awaited event ever since the end of 3G auctions. While no operator could get a PAN India license, all the key players settled for strategic circles.
However average consumers have still got a host of questions about 3G. And now the big question which arises or should arise in one's mind. Will my current handset work with 3G? Will I need to change my SIM? What will the speed of 3G be? What will be the coverage?
The first private telecom operator to announce launch date of commercial 3G launch was Tata DOCOMO which did not come as much of a surprise given the fact that NTT Docomo is a global pioneer in 3G. Airtel responded, possibly taken by surprise, soon after posting links to a few pages about 3G hosted on their site.
Well the "innovator" i.e. Tata Docomo has yet again took a step forward and yet again has come up with a solution to most of the customers regarding 3G related queries. Our questions now stand put to rest with the latest exclusive scoop that we have laid our hands on. Welcome to 3G Life!
Tata DOCOMO is unveiling a massive platform online www.3glife.com that we believe they have been working on for months. The site is dedicated to educating all consumers about life post 3G. The amazing home page features a global 3G Live stream that captures anything one is saying on 3G (read instructions on getting started) in the online space. Integrated across Twitter, Facebook, 100,000 blogs and forums and news sites it provides a real time conversation cloud of everything anyone is saying about 3G.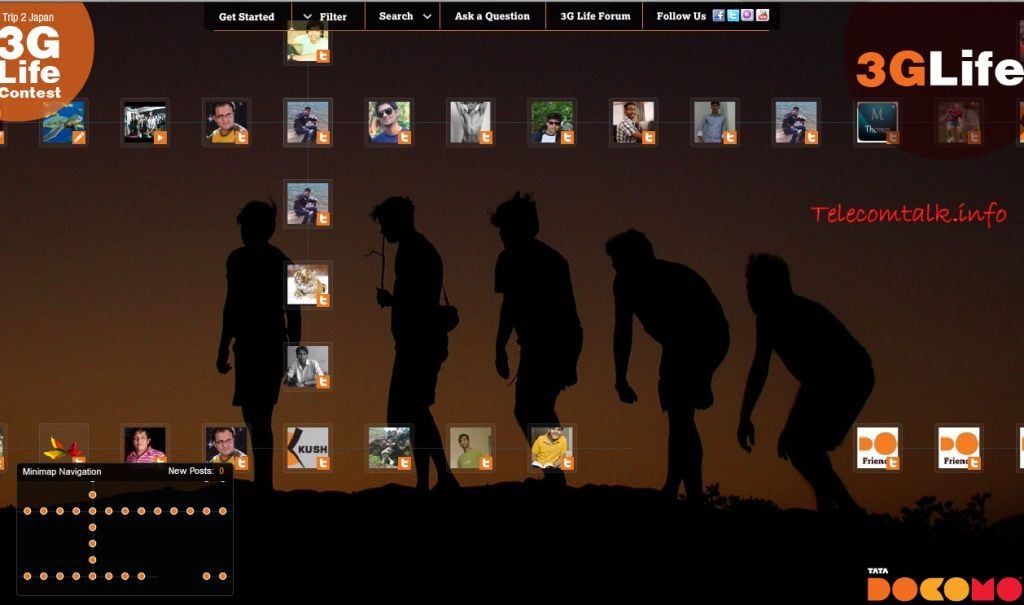 There is a dedicated forum for posting 3G related content. Users can also ask questions which moderators will reply to. The forum actually integrates signin through Facebook and Twitter accounts (an innovation). What's interesting is that content one posts in the forum also comes up on the conversation cloud (as soon as it is approved).
In site right from the start you will get to see numerous windows displaying content from various sources discussing about 3G commonly from sites like Youtube, Facbeook, Orkut and Twitter. Users have the option of filtering the content as per the choice and need. There's a dedicated Forum link on the site where if you have any news or updates about 3G can directly post it on the blog.
There's also a mini map at the bottom of the screen for quick and easy navigation. A flashing dot on the screen indicates that a fresh content has appeared. And lastly for any further queries related to 3G there 's a link on the top of the screen 'Ask a Question'. Click on the link ask your question and violla. You will the get the answer in no time.
Remember as quoted in our previous post about Tata Docomo started interacting with customers beyond the digital media. With social websites booming the internet world this new born baby left no leaf unturned to catch up with the customer trend.
The legacy follows and they seem really very serious regarding 3G services. Being associated with NTT Docomo the pioneer of 3G services and the very first cellular company to introduce and commercialise 3G which revolutionized the way we use mobiles.
Every day or the other we can see some kind of new development. We are wondering why other operators are not coming up with anything new. Are operators waiting for Tata docomos 3G launch to see what there strategy is and come up with a similar kind of stuffs only time will tell ? But i think end of the day customers are going to be get benefited by this heated competition.
We will post a detailed review of the 3G Life website after we have had the time to go through its amazing features, but for now it looks like Tata DOCOMO is racing ahead of the pack in becoming the thought leader in the 3G space. Until then keep hooked on to telecomtalk.info for more updates on 3G. Your comments will be highly appreciated.