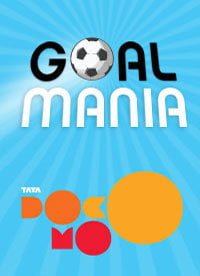 Tata Docomo catching up the football season has launched an interactive game on their facebook fan page. The world is going gaga over football now coz its World Cup time and telecom operators seems to be taking full opportunity of this moment to get connected to customers to the fullest.
Tata Docomo already the most popular service provider among all to connect with their fans through social networking sites have launched a game tagged as Goal Mania on their facebook fan page.
If yo are crazy about football.If you know more about the players than the managers .Then here is your chance to prove how well you know the beautiful game.
Pick the team of your choice and if they score you score too. Highest scorers win exciting prizes everyday and top scorers for the group and the knock out stages win a cool HTC Desire handset. Always remember the more friends you invite more is the chance for you to win this game.
Just log on to you facebook account and click on the link and score some goals and who knows you might end up winning yourself a brand new HTC Desire Handset.So what are you waiting for click on the link and start playing http://apps.facebook.com/goalmania/?ref=mf