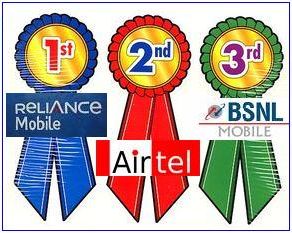 Reliance Communication's tagline of "Total Network" and "Kar lo Dunia Mutthi mai" certainly seem to have struck a right chord with Indian telecom service users.
Reliance Mobile topped in telecom service Brand Equity Segment of the prestigious,  "Most Trusted Brands (MTB) Survey" and  it has coveted top 10 in the MTB Survey.
The survey, conducted by The Nielsen Company on behalf of Brand Equity, is the largest, most diverse and most prestigious survey of its kind, with over 8,000 respondents nation-wide.
Indian Telecom brands have been on the upswing with Reliance Mobile, which was not even in the top 20 in the year 2008, ascending to the 10th rank this year. Airtel is the No. 12 MTB, while state-owned Bharat Sanchar Nigam Ltd. (BSNL) and Vodafone Essar are ranked 19 and 30 respectively.