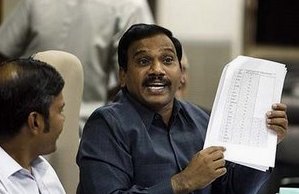 The result is out after years of deluge and controversies finally Mr. Raja our so called honorable Telecom Minister has put down his papers.
For the least few days he made quite a popularity for himself well which Rajnikant couldn't. As reported by NDTV today after meeting the Prime Minister this evening, Telecom Minister A Raja confirmed that he had resigned.
What so ever the case may be, the long lost chapter of 2G scam has just been folded and we are just waiting to welcome our new minister.
Now its all eyes is on is going to be the next telecom minister and how well he manages the already tangled scam to be more precise. Lets see who bags the honorary.
Will this be the end of all corruption? Can we recover the money?Its just a waiting period now!
So we ask you that who do you think is the most eligible person to hold the rank? Give us your feedback. Leave a comment and let us know.
WHAT IS THE 2G SCAM?
• Undervaluing 2G spectrum and 2G licenses issued in the year 2008 at 2001 prices
• Raja insisted on 'first come-first served' policy.
• 9 companies got licenses for nearly Rs. 10, 800 crore
• Some firms sold partial stakes for much higher rates
• CAG: Govt lost upto 1.76 lakh crore
• CAG: Raja ignored advice of Law, Finance ministries
What did Raja do in 2008?
At first Mr Raja and the Department Of Telecommunications (DoT) announced last date for filing applications was October 1, 2007. A total of 46 companies had submitted applications for licences before the October 1 deadline announced by DoT.
In January, 2008, DoT said only applications prior to September 25, 2007, would be considered. This caused big names such as AT&T , Sterlite, DLF , Ispat and Moser Baer — all of which applied after September 25 but before October 1, 2007 — were denied telecom licences.
Several of these companies have alleged DoT changed the cut-off date to September 25 to suit a few select Indian companies such as Swan and Unitech. Swan had owership controversy and Unitech had no experience in telecommunication field. After Unitech got the license for a throwaway price of Rs. 1,661 crore, it sold 60 per cent stake to Telenor for a whopping Rs. 6,200 crore.
Story of Swan (now Etisalat DB)
While Swan (now Etisalat DB, offering mobile services as Cheers Mobile) acted as a front of Reliance Telecom, which owned 10.7% of Swan telecom when it applied for. As per rule, a operator cannot own more than 10% stake in another telecom company operating in the same service area. Later Anil Ambani owned Reliance Telecom sold its stakes in Swan to Mauritius based Delphi Investments Ltd and commented as they had no share in Swan Telecom at the time of grant of license to them or any time thereafter, and that issue is accordingly not relevant to their Company. But email ID of Swan Telecom was shown as that of a Reliance ADA group official.
Swan's application was not disqualified but allowed to resubmit a revised shareholding pattern in December 2007, a month before the licences were issued and nine months after it filed the initial application. Swan Telecom later went to Tiger Trustees Pvt. Ltd , which in turn is 99.8 per cent owned by Dynamix Balwas (DB)  Ltd., later foriegn investment pumped into it by UAE's Emirates Telecommunications (Etisalat) when it bought 45% of Swan through Mauritius-based investment arm Etisalat Mauritius. A minority stake of Swan (5.27%) is owned by Chennai-based Genex Exim Ventures which is under scrutiny for its alleged link with Dubai-headquartered firm ETA Star that is implementing many projects in Tamil Nadu and is said to be close to the ruling DMK party headed by chief minister K Karunanidhi. Accused A Raja is a member of the DMK.
That 2G spectrum give away also helps to Reliance to enter GSM market by pan India, and they got the spectrum before other new licencees. Remember Tata Tele still has no 2G start up spectrum for Delhi. Uninor and S Tel both face same condition in certain circles.
Etisalat DB went with infrastructure sharing with Reliance Communications, and intends to get 26% shares of Reliance Communications, which is under heavy debt after 3G auction. There is high chance that Reliance and Etisalat DB go for a merger as soon as rules are changed or lock-in period of 3 years are completed.
So far, DoT has provided no explanation for changing the cut-off date. Later S Tel sued and the Delhi High Court ruled in S Tel's favour, in what turned out to be a major embarrassment for the telecom ministry.
The ministry appealed to the Supreme Court, and in March 2010, just days before the hearing in the apex court, the telecom ministry issued a notice to S Tel to stop mobile services citing national security concerns.Later S Tel had to say they are not appealing for pan India licence as situation changed from 2008.
Recently experts are saying Raja was not giving away licences for earn money for Govt. and he was like to make the market more competitive by entry of new operators. Well in that case intense competition rolled out, and tariff goes rock bottom. But Raja can earn huge money by auctioning this licences, that nobody can deny. And most importantly Raja favored some companies while rejecting other companies application who applied