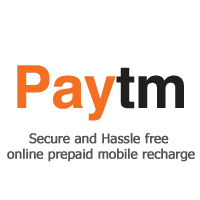 Paytm today launched recharges for all major Direct To Home television subscribers with no extra charges.
They are also offering free coupons worth close to Rs.2000 available on every recharge, thereby making the shopping experience all the more rewarding for the prepaid users.
Paytm is also planning to to launch prepaid recharges through Mobile Applications for smartphones for BlackBerry, iPhone, Nokia and Android devices in coming days.
Now prepaid recharges can now be bought with a click of a button, thereby saving time compared to the traditional method of visiting retail shops to buy recharge coupons!
Talking on the launch of this service, One97's Managing Director, Vijay Shekhar Sharma quoted "with customer delight and trust being our foremost success criteria, users will love Paytm's DTH recharge service."