We have recently covered an article about the possible or already happened 2G Data Hikes. Now that the updation process seems happening with operators. We can clearly see a drastic Data hike with 1GB Data packs across circles. 
Users Reporting such hikes with Vodafone and Airtel. 
As per the Chat Conversation with Vodafone CC executive:
Sir,in recharge bonus card with MRP of Rs 155, you will get a Talk Time of Rs. 0.
Benefit will be MI(Mobile Internet)2G : 525 MB free 2G Data,The Bonus card is valid for 28 Days, Recharge mode is E-Topup/ Online. You will get the confirmation of recharge within 15 mins, benefit will be credited into your account within 4 hours. I would also like to inform you, if you are using this service in national roaming kindly select Vodafone network manually, otherwise you will be charged at 10 paisa per 10 kb and free benefits will not be applicable. Post free usage browsing charges 10 KB/4ps. For all recharge modes (E top-Up,USSD,SMS,Coupon,online) the activation time remains the same as above.
Vodafone IN website still shows it 1GB/155Rs-28 Days.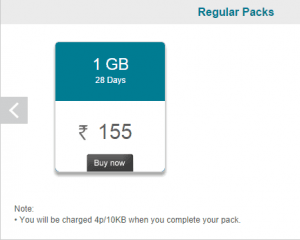 Recharge Section of Vodafone IN Shows updated Data Pack: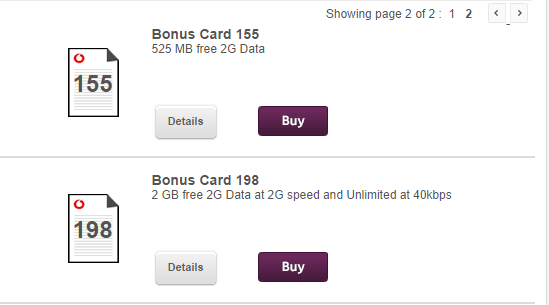 Good that Vodafone IN updated it's Recharge section at least in comforting users with recent and updated tariffs.
Observing the strategy of operators* – It can be inferred that Operators wanted to put a check or hike on those plans which are used just for communication or on people who consume less data for using apps like whatsapp or other IM clients. As we can see that 2GB 2G Data pricing remains same as earlier but 525MB pricing is hiked. Who knows maybe Operators will slowly hike them as well. *Vodafone
Customers used to receive Data benefit sms – 500MB high speed 2G Data for 20 days @Rs98. Hurry now to your closest Retailer. Latest sms Received on 31 Aug.
As per user information received even Airtel started offering 525MB at 155Rs for 28 Days. Looking at the price point changes, this is very drastic hike/pricing compared with 1GB 3G of BSNL/Aircel at least.
Airtel 2G DATA Benefits : According to Airtel website. * AP Circle 

Airtel Recharge Website still shows 1GB benefit for 155. * AP Circle (I wonder if it's really updated or Airtel is really being kind to it's customers)
While Airtel and Vodafone are on one side, Idea Cellular this time followed a different route. Idea Recharge section shows the following plans as on Sept 9 :

Dear Readers, do you accept these price points for 2G Data packs? What's your take on these hikes? Let us know via comments.
Only Operators should know if they are trying to Promote 3G by hiking 2G tariffs or trying to encounter usage of IM clients. What do you say Readers?
Note: Benefits may vary from circle to circle. Websites may or may not be updated. Please check with respective CC executive before subscribing to any of the above discussed plans.