BSNL is still the favorite mobile service provider for many Indians because of transparent billing and good network coverage. Anyone who travelled to remote regions of the country would vouch for BSNL's service. Despite of all these, BSNL losses are ever growing. We at Telecomtalk had conducted a survey in January to find out reader's opinions about BSNL/MTNL and 53% of the readers were happy with their choice. Out of the several improvements, TT readers felt that BSNL must improve customer support and upgrade their website.
In this post I will try to bring out the issues faced by BSNL customers w.r.t. to online recharges through the issue I faced today. Having been a BSNL customer for over five years and experienced online/offline recharges at multiple portals I think I can do my fair bit here.
Today I wanted to recharge my prepaid number with an STV and headed to Paytm (I always use Paytm and recommend them for prompt service) for the same. As the recharge was reported success but did not happen in reality, nice folks at Paytm refunded the amount immediately. Later I headed to BSNL Portal for the same. Here strange things started happening. After making the necessary payment successfully I was greeted with this database related error message:
Amidst this, my twitter pal @SathyaBhat could guess the reason:
Trust me, I could never get BSNL customer care 1503 to do their bit for failed online transactions. I always get to hear "Call after some time, our server is down now" answer from the executives there. At times I have approached senior officials of BSNL over phone and got things done! Having faced a similar experience last year where a data STV recharge failed and took nine months for refund I decided to raise an online dispute with BSNL. This decision marked the beginning of another episode.
Clicking on 'Contact' in BSNL Portal brought up this page which had only phone numbers. No email IDs or contact forms. Earlier there used to be a contact form in this place. ( screenshot on your right side)
Clicking on customer care link on the top of portal page brought up this:
I seriously wonder if anyone used this site to successfully solve any issue. The layout had been changing for worse ever since I saw this site first in 2010. Well, as I got the site I proceeded onto click relevant sections for prepaid complaints.
After choosing the circle above I landed here:


Had to choose General Complaint after looking at the legend. Landed here: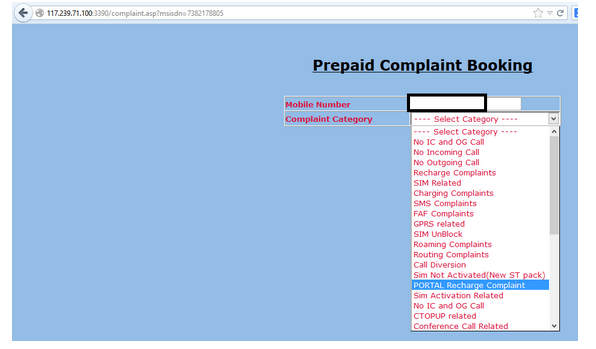 Selecting any option there used to bring up this:


BSNL engineers think the error is normal but what about a customer who wants to get his problem solved? Amount at stake was little for me but I fail to understand what prevents BSNL from providing a good online customer care portal which can be used to solve numerous complaints gracefully. BSNL website designs looks like they were designed for 1990s.
After good one hour of fiddling with BSNL's website infrastructure there came an SMS stating recharge success! Now should I say: All's well that ends well!
Have anyone of you been through such situations with BSNL? If yes, how did you manage to solve your issue? Please let us know through comments!