India's total number of telephone subscribers fell 0.26 per cent to 904.23 million as of October-end from 906.62 million a month ago, following deactivation of SIMs by operators due to non-usage.
"This decline is due to large scale disconnections by some of the service providers," said Telecom Regulatory Authority of India (TRAI), which released the data, said.
The total number of telecom users also fell during the month under review. As of October-end there are 935.18 million subscribers, a 0.27 per cent fall, from 937.70 million users as of September, the regulator said in a statement and over 200 million SIMs were inactive for over a certain period of time.
The requests for mobile number portability (MNP), a service that enables users to switch to other operators without changing their numbers, rose to 75.14 million as of end of October 2012. MNP requests stood at 69.78 million as of September-end 2012.
MNP Status October 2012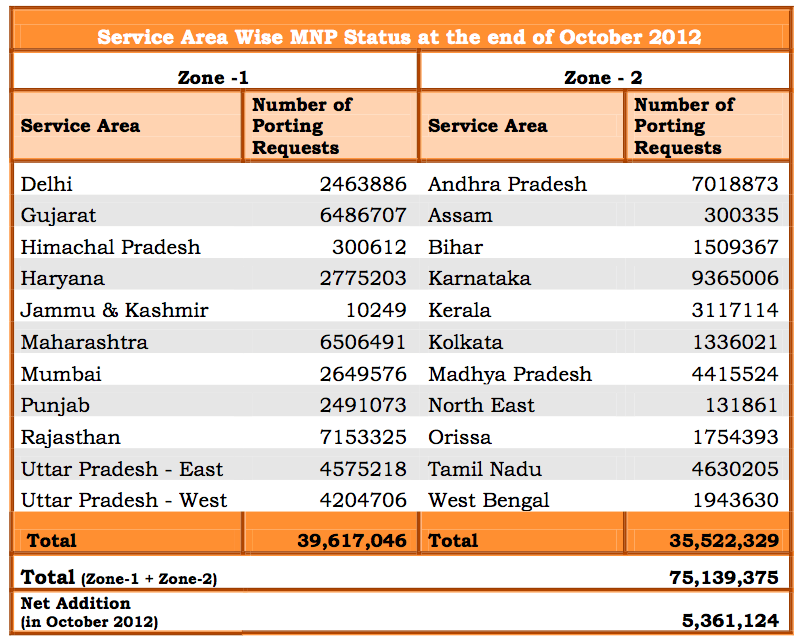 Airtel added 491,570 new users, taking its total subscriber base to 186.41 million by the end of the month. Vodafone India, the GSM operator, added 480,336 new subscribers, increasing its total base to 153.14 million. State-owned telecom operator Bharat Sanchar Nigam Ltd (BSNL) added 357,148 users and Idea Cellular added 239,348 new users. BSNL had a total of 99.99 million users, while that of Idea stood at 115.70 million.
Among the losers were Tata Teleservices (lost 1.6 million users), Uninor (1.1 million), Reliance Communications (844,735), Videocon (59,151) and Loop Mobile (47,379).
The wireline subscriber base declined to 30.95 million (from 31.08 million as of September 2012) at the end of October 2012. The total broadband user base rose to 14.81 million (14.68 million as of September).