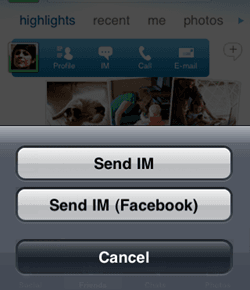 Gemalto the world leader in digital security, announced Facebook for SIM, which enables anyone to enjoy the service on all handsets, even if without a data connection or data subscription.
Gemalto's software development team has embedded the software application into the SIM. This ensures the Facebook application is compatible with 100% of SIM-compliant mobile phones.
The innovative solution provides mobile subscribers with simple and convenient access to core Facebook features such as friend requests, status updates, wall posts or messages.
It also offers unique functions like people can sign up for this service and log in directly from the SIM application.
Interactive Facebook messages pop-up on the phone's screen so people can always share up-to-the-minute posts and events. One can also automatically search their SIM phonebook for other friends and send them requests.With this announcement, Gemalto brings Facebook to millions of mobile phone users regardless of their handset type.
Facebook for SIM is extremely easy to use and is available to everyone. No data contract or application download is needed, because the software is embedded in the SIM and it uses SMS technology. As a result, it works for prepaid as well as for pay-monthly customers.
Following an initial limited free trial period, Facebook for SIM then operates on a subscription model via an unlimited pass for a given period of time.
"Increasingly people want to be able to stay connected and communicate with their friends on Facebook anytime, anywhere," said Henri Moissinac, Head of Mobile Business, Facebook. "Gemalto has developed a creative solution in Facebook for SIM that enables people without mobile data plans to stay connected to their friends on Facebook in an affordable way.