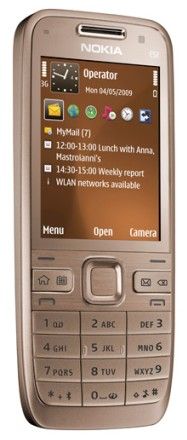 Nokia introduced its latest E series device, the Nokia E52 a voice centric smartphone that claims boasts astounding talk time eight whole hours before you need to recharge. It also makes the most of Nokia's email functionality thanks to Nokia Messaging, making email set-up on the device simple and fast.
In addition to the impressive battery life numbers, the E52 features noise-cancellation technology to bring you better call quality, so now you'll be heard clearly no matter where you're calling from and also comes with a feature called Call Connect, which allows you to hook up your corporate phone system with your mobile phone.  All this comes on top of the features we've come to expect from Eseries devices including A-GPS, high-speed internet and a 3.2-megapixel camera.
While the extremely thin candy-bar-style handset doesn't feature a full QWERTY keyboard, it is e-mail capable with support for Nokia Messaging, Mail for Exchange, and Lotus Notes Traveller. Other highlights include Fastest Inernet with HSPDA/HUSPA, Wi-Fi, Nokia Maps and A-GPS,The E52 is expected to go on sale during the second half of the year for Rs.16000 INR approx. The smartphone will be available in metal gray or golden aluminum and will ship with a 1GB microSD card and a complimentary 60-day to File on Ovi.