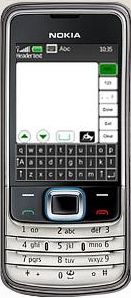 Nokia has launched its first series 40 touch-input device Nokia 6208 Classic in India. The Nokia 6208 Classic features a sophisticated pen input along with an alphanumeric keypad and handwriting recognition features. The 2.4-inch QVGA touch screen makes messaging simpler, allowing users to write in simplified English text and conveniently access the phone's features, claims the company.
Made up of stainless steel back cover, Nokia 6208 Classic features larger fonts for messaging and browsing as well as viewing pictures and web pages. The device also supports optional microSD cards up to 8GB. The phone also features 8x digital zoom, Stereo MP3 player, FM radio, 64 MB internal user memory (13MB free), and 5-way navi-key.Vineet Taneja, marketing director, Nokia India, said, "We are extremely excited to launch the Nokia 6208 Classic truly designed for convenience. This is our first series 40 touch input aimed to give our consumers an enhanced messaging experience. With a 3.2 megapixel camera, dual LED flash and 8x digital zoom, the Nokia 6208 classic makes capturing memories and sharing moments simple, fun and easy."
The Nokia 6208 Classic is priced at Rs 13,259.