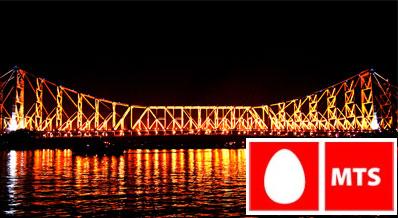 Remember our earlier post "MTS KICKS OFF ITS CAMPAIGN IN KOLKATA"  Now We bring you the exclusive news that MTS (Mobile Tele systems) has rolled out its Mobile Service in Kolkata circle and said it would invest $150 million in Kolkata telecom service area over the next four years. Beginning today, MTS services can be purchased at all telecom retail outlets across Kolkata. By the end of June, MTS will be gradually present across all district head quarters, major towns and highways of West Bengal. MTS is reaching out to its customers in Kolkata, with the message "Change your Life's Plan".
MTS also said it is planning to launch its services in Delhi by August, a move that is likely to intensify competition among the seven telecom players in the national capital."We will launch our services in Delhi by August-September (this year). The company is already in talks with tower companies and infrastructure firms for rolling out operations in Delhi," SSTL President and Chief Executive Officer Vsevolod Rozanov told to the media after launching their mobile telephony services under the 'MTS' brand in Kolkata.The company would launch its services in other parts of West Bengal by next month followed by Bihar and Jharkhand in July.
The company is offering a scheme of one million minutes of free talk time to its customers with a limit of 150 minutes usage everyday with its MSaver-499 and also 10 local SMS  as bonus per day, call Charges and tariff are the same as its all existing circle.
All local MTS-to-MTS calls will be charged at 35 paisa per minute; MTS-to-non MTS calls and calls to landlines will cost 70 paisa per minute STD calls will cost Rs.1.40 per minute local SMS (on all networks) will cost subscribers 50 paisa per SMS, while international messages will cost Rs.5 per SMS. The Life Time Prepaid will cost Rs.49 with talktime of Rs.10 and the call charges will be applicable as above.Additionally, there is a second lifetime offer from MTS which would allow customers to make local mobile calls at just 30p/min. This offer will be at a one time cost of Rs.99 and is a limited period offer.
The help line number for MTS Kolkata is 155 (Toll Free) from your MTS mobile phone  Or dial 91 53 155 155, if calling from a landline or non-MTS phone.