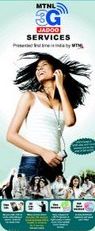 MTNL Delhi today launches Prepaid 3G Mobile service and also slashed its 3G tariff more than 50% less from the existing 3G Plans. MTNL Delhi's 3G Prepaid plans starts from Rs.250 and the revised postpaid 3G Tariff Plans now also same as new prepaid tariff plans.
MTNL expects to install capacity to accommodate 800,000 3G users, MTNL's CMD R.S.P. Sinha told reporters at a news conference. Announcing the launch of the pre-paid 3G service, Sinha said, MTNL is launching 3G Jadoo Prepaid Services so that customer should be able to avail the latest 3G/3.5G services at an affordable price.Since pre-paid is the preferred by customers, the 3G service will be available for only one time charge of Rs 300 with lifetime validity, In addition, a subscriber can also choose any of the data coupons to avail free data downloads coupled with free video calling to suit ones individual requirement, Sinha said.
MTNL Delhi also extended 3G coverage to Trans Yamuna, Central Delhi, South Delhi and NCR of Gurgaon with 225 base stations. The company will soon cover Noida, Dwarka, Karolbagh, North-West and the remaining areas in and around the capital.
We have some exclusive details of MTNL Delhi's Prepaid 3G Tariff plans. The company launches 3G Starter kit for Delhi circle same as Mumbai at Rs 99 with 60MB Free Data usage with validity of 15 Days. The Tariff Plans for Trump Preapid 3G are as follows.
The MTNL 3G SIM Charges (One time) Rs.300/- (inclusive of tax) comes with Talk value-Rs 15/ and lifetime Validity.
The New postpaid 3G Tariff Plans for MTNL Delhi are as follows-:
3G Data card /HSDPA Service (Optional) : All 3G customer will have a option of taking HSDPA card and Data service on HSDPA . The charges of HSDPA service will be provided through a special HSDPA recharge coupon .
HSDPA recharge coupons  for Prepaid and  Monthly rent for postapid will  Rs.149/-Free data download (to be consumed in 30 days) 60 MB and Data charges beyond free limit @ Rs 3/- per MB (with any of 3G data coupons used)

All charges in the above mentioned tariff and data charges beyond expiry or consumption of free data will be deducted from the main account balance of the Trump customer. The above 3G data cards are downward compatible i.e. it will work with 2G connection but the customer will get the GPRS speed in 2G connection and no video call facility.

Customer willing to buy HSDPA card from MTNL, he will be charged Rs.5000/- (plus tax as applicable) towards cost of HSDPA card and he will get HSDPA card along with 1GB free download to be used in one month in the form of 750/- 3G data coupon.MTNL Delhi also launches 3G Jodi offer. With this offer new 3G customers (who will purchase the starter kit) will be provided 2G prepaid Trump Jeevansathi (Super saver pack) connection of MRP Rs.88/- Free as a complementary connection along with starter kit..
Note-:

The above schemes and package shall be available in Eastern Court, Jeevan Tara Building, Jorbagh, CGO, Laxminagar, BCP, Okhla and Nehru place Sanchar Haat Customer Service Center of MTNL Delhi.MTNL 3G Subscriber can avail same data tariff charges while using in BSNL/MTNL Mumbai network in all plan without any extra roaming charge for data, however free download will be available in MTNL Delhi network only. Roaming charges for voice calls /SMS etc shall be as per 2G Trump plan.