Mahanagar Telephone Nigam Limited (MTNL), the state-owned telco is making its attempt of surviving the new surge of competition which has erupted in the broadband home service sector. The telecom operator which has long provided broadband services to customers in two metro cities (Delhi and Mumbai) of India has rolled out a new offer wherein all the existing and new broadband customers of MTNL who have subscribed to plans north of Rs 600 will be eligible for a free MTNL 3G SIM card with data benefit of 5GB per month. This move by the state-owned telco comes right after Reliance Jio has announced its entry into the broadband market.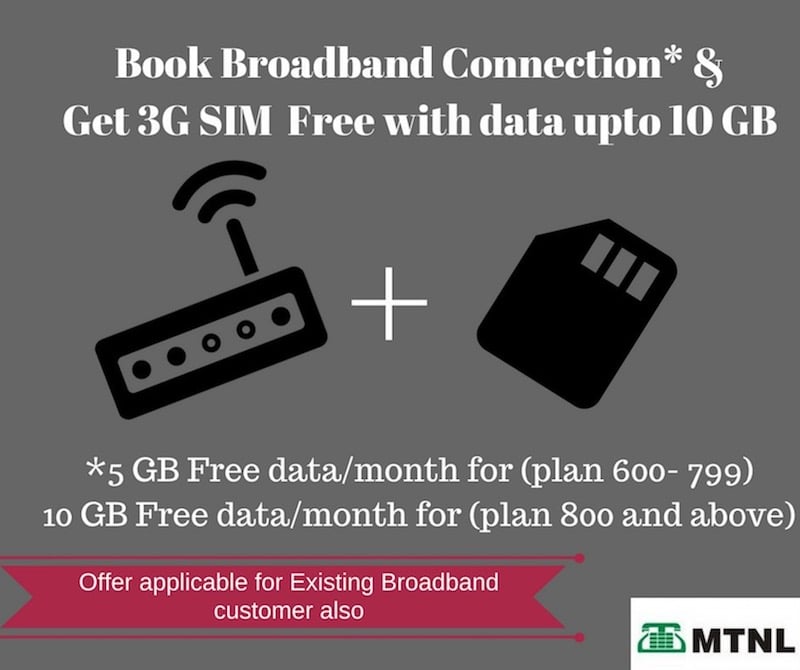 The scheme which will be valid starting July 1 will be known as the 'Broadband-GSM Companion Scheme'. Under the Companion Scheme, the broadband users with monthly billing upwards of Rs 600 can get a free MTNL 3G SIM card with five years validity free of cost. Subscribers with a monthly broadband billing of Rs 600 to Rs 799 will be eligible for 5GB data per month on this SIM card for 12 months. On the other hand, a subscriber with the monthly broadband billing of Rs 800 and above will be eligible for 10GB data per month on their MTNL SIM card for 12 months. Although the data on the SIM card is going to be free for an entire year the charge levied on the calling and SMS benefits will be according to the following tariffs.
For My Group the monthly service charge levied will be Rs 20, call within the group will be billed at 1p/12sec, SMS (to the group) will incur a cost of 10p/SMS and charges for number change will be Re 1 per number. Call charges to mobile phones (Local + STD) will be billed at 1p/sec, and landline calls will be billed at 2p/sec. Similarly, the SMS charges for local SMS will be 50p/SMS, for National SMS it will be Re 1/SMS, and for International SMS it is going to be Rs 5/SMS. Also, after the exhaustion of free data limit users will be charged at 3p/10KB. These are the base tariffs for the new MTNL 3G SIM card, however, users have the flexibility of recharging any prepaid plan as per their wish.
It is noteworthy that during its Annual General Meeting on Thursday Reliance Jio has announced its JioGigaFiber, a fibre-based broadband service company which Reliance Jio is going to kick off in 1,100 cities starting this year. Like the record has shown, Reliance Jio is expected to resort to very competitive pricing to make aggressive customer acquisition. In such a case, other broadband service providers are planning and launching offers to retain their existing customer base. MTNL seems to be no exception.