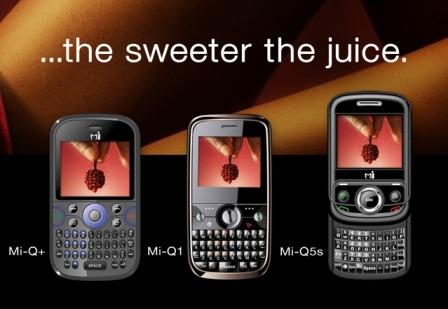 Mi-Fone the latest handset manufacturer in the Indian market has launched 3 new mid range QWERTY keypad handsets just like the same old blackberry.
Mi-Fone has initiated an advertising campaign to support the launch of MI -Q range (Mi-Q1,Mi-Q+,Mi-Q5) that is reflective of its consumers and the spirit of its mobile phones: capable, trendy, confident, cheeky, and uncompromising.
It is feisty and brash, taking the battle for the young Indian consumer directly to other mobile phone manufacturers. It is edgy and risky, unashamedly announcing Mi-Fone's foray into the QWERTY space.
It is about recognising your ability and capacity to move mountains. It is impetuous yet not foolhardy. Indian's today tire of being the whipping boys of the globe and are standing up and working for what they deserve, carving a place for themselves. So too is Mi-Fone with this campaign, the first of which launches the Mi-QWERTY range driven by the tag line "Darker The Berry  … The Sweeter The Juice".
"The Mi-Q family is designed to give our young consumers a 'Blackberry experience' at a fraction of the cost, while maintaining a high aesthetic. Our advertising campaign is meant to incite and evoke and inform our target market. It may be tongue-in-cheek but it also clearly demonstrates our willingness to compete for our market, which has been side-lined by the bigger brands through pricing," explains Mr. Patel.
The campaign is all about featuring the new handsets with all its looks and features. Cheeky, fresh, pushing the envelope Lifestyle campaign designed to engage, and make a comparative impression.
The phones have been designed specially targeting the youth customers primarily in the markets of Africa and India.The phones speaks for itself – Suggestion is that Darker Berries from Africa are sweetest .