Ever tried to forward or divert your mobile calls to another mobile/voice mailbox number and faced tough times with the process? If you are in any situation where you feel the importance of call forwarding/divert services, go ahead and continue reading. Your reason can be anything, be it network availability or you are in a situation unable to take calls. Call forwarding/diverting feature may come to rescue under any such required circumstances. While, not going into technical and actual aspects of call forwarding / call diverting services, we will quickly have a look at the functionality provided by various operators.
What is Call Forwarding/ divert feature?
Call forwarding or call divert is a call management service of telephony feature which redirects a call to another destination - be it another mobile number, landline number within your circle or even voice mailbox number which acts as your personal assistant.
How much does activating this feature cost?
Charges: You will not be charged for activation or deactivation of this service. Only the call diverted will be charged as a separate outgoing call based on your tariff plan. Normal local call charges apply only when a call is forwarded/diverted and answered.
How can you activate/deactivate this service?
Activation/Deactivation: Activation with different conditional clauses and deactivation can be performed using inbuilt handset settings or by using specified feature codes provided by your respective operator via USSD request followed by call key. So,even if your device doesn't have settings to enable this service provided by operators, you can contact respective operator's cc to get the service request code for activation/deactivation of this service via USSD.
*What can call divert/forward conditions be:
Forward All Calls - Forwards all calls unconditionally
Forward If Busy - Forwards calls if your number is busy
Forward If Not Reachable - Forwards calls if out of coverage area or not reachable
Forward If No Reply - Forwards calls if you are not responding to a call after selective time duration
Customer Care Response & Experience:
We also made trail checks with CC of some operators regarding this service and the most absurd response is as below.
Call forward / call divert is a handset dependent feature, So please contact your respective handset manufacturer support for guidance on the same.
Table showing the implementation of this service by various operators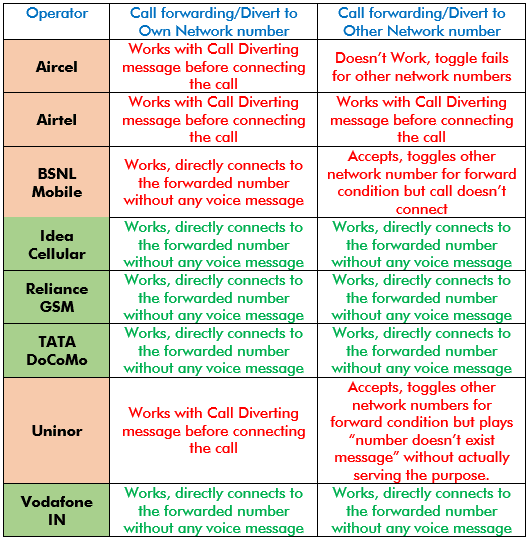 While there are issues with some operators in implementing the service in a full-fledged manner, fortunately, or unfortunately there are operators who provided the service but enabled playback of forward voice message before a call really gets connected. This might not be taken in a good sense of provision for many users who doesn't want the called party to know that their call is being forwarded to another number. So, an alternate method like tweaking the caller tone instead of voice playback will be an option to consider by operators.
Dear readers, are you using this service provided by your operator? Do comment your opinion on the usefulness of this service via comments.
Also read: Analysis of Indian Operators Who Messed Up with Call Management Services
Note: Above tabulated results are taken and observed on numbers belonging to AP circle with *Forward all calls as a condition, may or may not be the same for your number/circle as well. Do check with CC of your respective operator to confirm on the services. *Idea: Call divert facility to Pre-paid customer and landline option is not applicable for AP customers. *Vodafone: In Haryana, calls can be diverted to any local number except BSNL mobiles & land line. Above results are personal results and are verified purely for mobile services and not land lines.*Handset dependent options