Reliance Jio, the operator which recently crossed the 100 Million subscriber mark, is aggressively making its place in the highly competitive Indian telecom space. The operator during its free services offering single-handedly managed to lift India from the 150th position globally for mobile data consumption to the current number one position. CEO Mukesh Ambani declared that Jio subscribers alone consume as much data as all the subscribers of all operators in USA put together.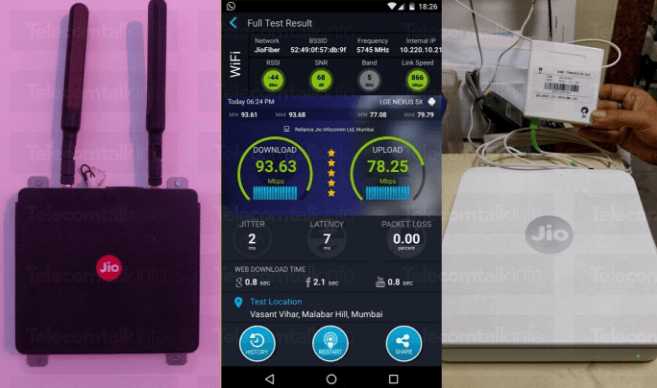 The reason why Jio can offer this quantum of data to its subscribers without getting its network choked is because it has Fiber backhaul for its BTS as compared to microwave backhaul used by the incumbent operators which cannot handle this amount of load. Jio recently announced its prime membership from 1st April for its subscribers joining the network on or before 31st March 2017 for a one-time fee or Rs.99.
Once the wireless segment gets stable, Jio will turn its focus to the wired broadband segment where it will offer FTTH services with speeds up to 100 Mbps under the name Jio Fiber. Jio is laying out optic fibre across the length and breadth of the country at war footing, subject to the right of way obtained from various municipal corporations within the city limits.
In Mumbai, the operator is currently offering free Jio fiber services in select locations and housing complexes with truly unlimited data usage, similar to the beta testing phase for employees and their family and friends and early adopters of LYF handsets before the commercial launch of wireless services. Currently, people residing in the locations where Jio is offering the free preview just need to pay a Rs.4500 refundable deposit for the consumer premise equipment, which they can get back if they choose to not continue with the service once Jio starts to charge for it.
I visited an acquaintance's place where the Jio fiber was installed and decided to test the network performance. In the image above, the pic to the right shows the square modem cum wifi router with Jio branding while the smaller device held above it is the splitter for the optic fiber. The screenshot in the middle shows the speed test result using the net velocity app. I got a download speed of 93 Mbps and upload speed of 78 Mbps while the latency was just 7 ms. This is an ideal performance since the network is not yet loaded with only a handful of users utilising it, the actual performance will be visible after commercial launch.
Jio is also working on its IPTV solution where it will offer 500+ live TV channels on its Android-based set top box including full HD channels streaming over its fiber broadband network. Jio has also signed a deal with AirWire to offer connected car IoT device in India. Jio will soon launch its smart home solutions including remote unlocking of doors and controlling of lights and AC through the smart home app.
This post was last modified on March 4, 2017 4:23 pm