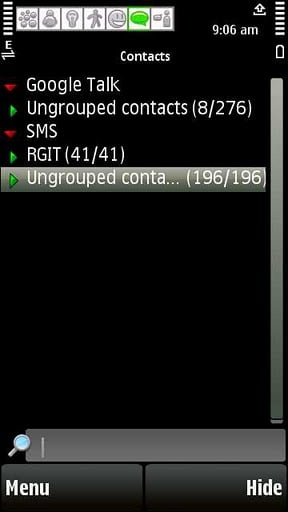 At TelecomTalk we are Trying to Cover More and More Mobile Apps which Interests you the Most we had written about Top 3 Mobile Chat Applications last week, we have found yet another Interesting Application called "IM Plus"
IM Plus is a Mobile Chat Client which has Quite Impressive Features and is available for Wide Range of Mobile Platforms- iPhone, BlackBerry, Windows Mobile, Symbian S60, Android, Java Phones, Web OS and Others.
To Keep it Simple, we have Tried IM Plus application in Nokia S60 devices. Here are some Highlights of this App:
Integrates Your Phone Contacts into The App.

Load Time is Impressive

Enables Messaging via SMS within the Application.

Integrates ICQ, MSN, Jabber, AOL, Yahoo!, Gtalk and MySpace..

User Interface is "Down to Earth", Gives a Feel that you've not Installed any Third Party App.

Well Organized Contacts Lists with Thumbnails arranged Next to Next ..

Switch Between Accounts in No Time, Migrating From One Chat Account to Other is Made Easy with a Bar at Top..

Pop Up Notification for Recent Chat Conversation along with a Bell Tone..

File Size is 1 Mb… Reasonable, when Compared to Nimbuzz and Fring..
What we Didn't Like in IM Plus:
Integration of SMS into the App has some Bugs, When The App is Running you are forced to Use SMS service within the App Itself, The Default SMS wouldn't work for Reply

This App is Most Targeted for US with Apps like MySpace,Jabber,AOL, ICQ which is less used in India..

No Facebook Chat Integration