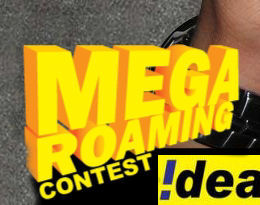 In Addition to the roaming contest by Idea cellular to all the roamers on there phones Idea  Cellular has set a web space where user can check his chances of winning a Ford Ikon on its website http://www.ideaforroaming.com/  here you have to answer a set of questions to check whether you can win the contest or not.
Prior to this launching the offer, Mr Pradeep Shrivastava, Chief Marketing Officer, IDEA Cellular, said,IDEA has always strived to enthrall customers through various exciting and innovative customer engagement programs this specially crafted quiz based contest will offer a chance to win exciting prizes for Idea customers roaming in Idea networks.
The Mega Roaming Quiz Contest will comprise of multiple questions and answers.
IDEA customers, while on roaming, can participate by dialing Voice Code 56665 charged at Rs. 5 per min. The IVR will prompt the participants to choose the correct answers and the total score of the participant would be prompted once the participant has completed a group of 5 questions at any given point of time.
Every correct answer would carry 1 point.Winners would be decided on the basis of their scores in the contest. Two highest scoring customers will be declared winners and will be given Ford Ikon Cars while other top scorers will get prizes from American Tourister and TravelPort.
You can call it another stance for promoting the service but the Idea is really working.