HTC was the first to introduce an Android smartphone, a smartphone with a 1080p display and a smartphone with f/2.0 camera. It appears that it might be able to grab the title of the first brand to introduce an Android smartphone with a 64-bit processor. HTC has confirmed such a phone through its official Weibo account. In the teaser image, HTC claims this device would be the "world's first octa-core 64-bit phone" and we think that it might be the HTC Desire 820, the successor to the current mid-range Desire 816. The device in the image makes us feel that it will have a good front-facing camera and either a metal-clad design or a metal frame on the sides of the device.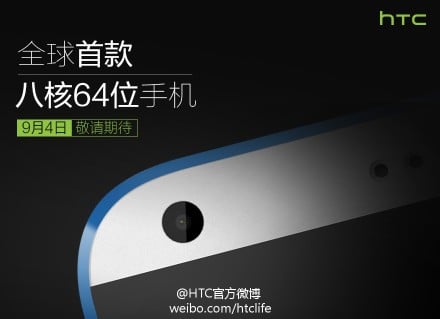 Also, there is a greater possibility that this device will be powered by a Qualcomm Snapdragon 615 SoC as the only other 64-bit octa-core processors are the MediaTek's MT6752 and MT6795 and there is still some time for them to be available to the smartphone vendors.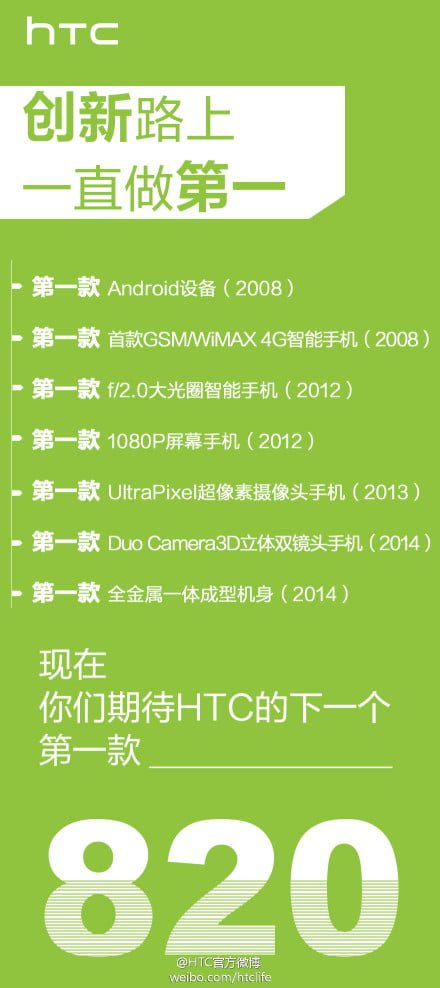 The Qualcomm Snapdragon 615 SoC contains octa-core ARM Cortex A53 CPU cores (4 x 1.8GHz Cortex A53 + 4 x 1.0GHz Cortex A53) along with Adreno 405 GPU and LP-DDR3 RAM (64-bit @ 800MHz) compatibility. It also supports latest connectivity options such as multi-mode 4G LTE, Wi-Fi ac/b/g/n, NFC and GLONASS A-GPS.