Since the advent of Siri, personal digital assistants have been an exciting thing. We later saw Google Now and then came Microsoft's Cortana. While digital assistants can do a lot more there is another category, the bots. Many of us would have observed that replies to customers from telcos in social networks appear to be robotic in nature. According to our sources in the telecom industry, they aren't handled by bots yet. Perhaps, the sheer volume of complaints makes the people behind those handles reply in a standard way, even while some posts aren't complaints. A solution is emerging for this kind of issues - through the use of intelligent bots powered by AI (Artificial Intelligence) and smart use of APIs, brands would be able to interact better with users. Bots or chatbots are gaining widespread adoption and it has become easier than ever before to develop them. Such is the acceptance of bots that Facebook has over 11000 messenger bots just within three months of launching the ability to build bots.
In this post, we examine how bots can be put to use by telcos for improving customer satisfaction and improve internal productivity.
Bots for Customers
Some telcos already have chat integration in their websites which are handled by support agents. Allowing an intelligent bot to take over (or introducing a new chat solution powered by bots) would mean a lesser burden on support staff. Generally, customers begin a chat to seek information or lodge complaints. The workflow at the telcos end would be -
Agent comes online > Greets the customer > Asks about the problem > Queries internally for the solution > Responds to the customer > Further discussions happen > In the case of non-resolution, lodges a ticket and communicates that... and so on
All the items described in the workflow above can be handled by a bot. The process would be -
Greets a customer by default
Asks for customer's phone number which enables better query handling
Seeks information about the problem. Let's say customer asks for postpaid plans or says wrongful deduction
Bot either provides a link to plans page or offers to lodge a support ticket.
With integration to the CRM system, ticket logging happens quicker than a human agent
As the bot presents the ticket number on the chat window, the customer also receives an SMS.
The customer is happy and telco has saved at least five minutes of agent's time which can be used elsewhere. Machine learning approaches can make bots intelligent over time, where it can respond better. Also, a human agent would be able to take over for peculiar cases where bot might not be able to support.
There are immense possibilities of how bots can take things to the next level and offer fast transactions. Think about recharging phone with a data pack or rate cutter using existing prepaid balance (verification can be done by OTP SMS) which can be provided in the chat window.
Bots to improve Internal Productivity
Bot based systems can be readily integrated into a telcos Human Resources Functions. Recently, Ramco Systems was in the news for creating 22 bots for HR and another dozen for the aviation industry. Those of us who work in companies would be aware of myriad systems to handle different things. For instance, apply for leaves in the HR Leave Portal, schedule / cancel meetings through Outlook Calendar, place requests for reimbursements in Finance departments portal and what not. Ramco aptly describes these as transactions and by nature, they don't require detailed inputs. Say for leave, one has to enter the dates, sometimes a reason and wait for manager's approval. Bringing in some intelligence here would mean leave might just get approved if there are no overlapping requests from other team members.
As you can see below the bot is able to express empathy and offer to help.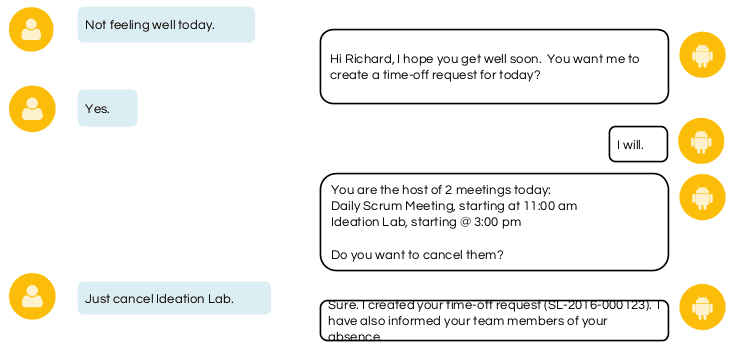 Ramco also has a system MAIL IT which does exactly the above things. A classic use case would be to query for a leave report just by sending an email with one line subject and then apply for leave.
We believe such intelligent systems can improve productivity not just in the telecom industry but everywhere. Do you think bots will take over simple and even complex customer service, HR functions sooner or later? Let us know via comments or tweet to me @gischethans.