For the past two weeks we have been subjecting the new Airtel 4G Huawei Mobile Hotspot device [Check unboxing with pictures here] to a variety of tests. They comprised of speed tests, management dashboard evaluation, battery life etc. and were conducted in Hyderabad on a Ubuntu laptop. Windows was used at times. The device mainly aimed at users who are frequent travelers has certainly lived up to our expectations.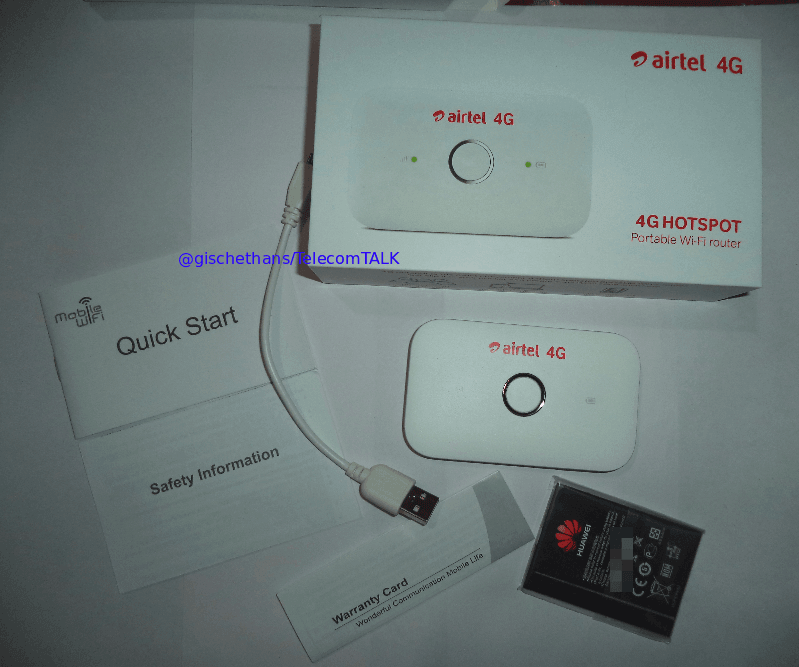 Speed Tests
Users are very particular with speeds when it comes to any internet service. The expectations are even higher when it comes to new generation offerings like 4G in this case. Here are the speed test results depicted in the form of an interactive chart. The speeds used to just cross 20 Mbps only during early mornings. The upload speeds were considerably lesser most of the times.
As Airtel is still in the process of optimizing the 4G network in Hyderabad we expect the speeds to improve in the coming days.
General Usage
Though it is a Wi-Fi device one can use the device on desktops without Wireless network adapters by plugging in the device to a USB Port through the supplied USB cable. The device stays connected to the web while being charged. In case of Ubuntu it was just plug and play - power on the device by pressing and holding the large round button at the center and the network connectivity used to be established in seconds. On Windows the one time operation of loading drivers took a while when plugged in through USB port for the first time. Later on connectivity was instant.
Management Dashboard
Other than the initial homepage view, user is asked for device's admin credentials for controlling abilities.
Homepage
The Huawei dashboard customized for Airtel is really simple to use. We specifically liked the landing page which used to provide significant amount of information at first glimpse. Key indicators in terms of signal strength, data sent / received in the particular session, number of connected devices and key controlling abilities like powering off the device, disconnecting from the data network or enabling Wi-Fi extender are present here. The ability to power off the device remotely is certainly impressive!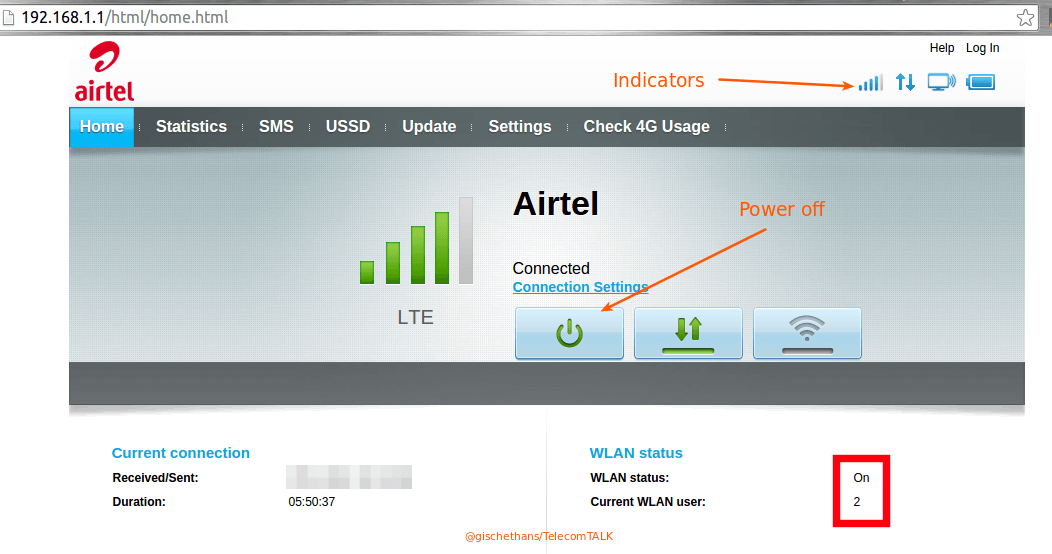 Statistics
User would be able to check all vital statistics pertaining to usage in this page. Even connected devices along with the duration is visible here.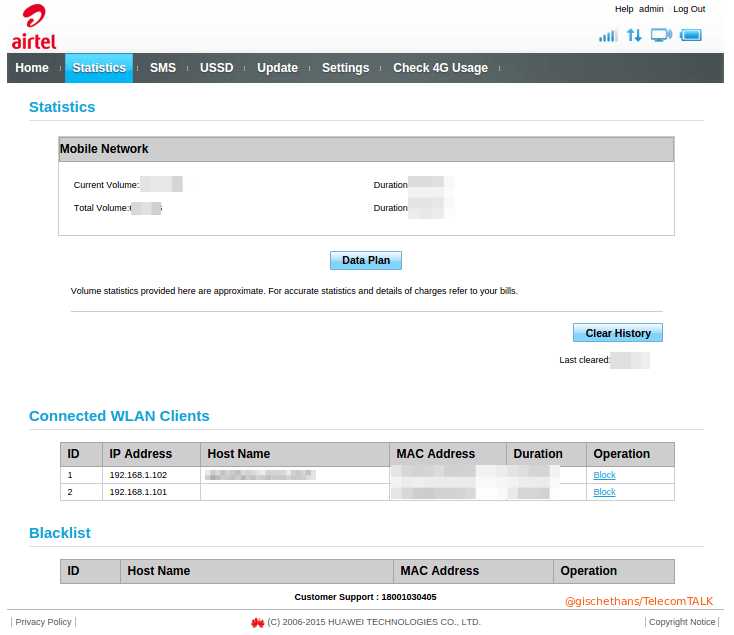 SMS
The SMS console is cool too. Messages sent were being delivered in a matter of seconds (power of Airtel's network of course) and delivery reports could also be received. However with the absence of a phonebook a user is forced to type in numbers every time.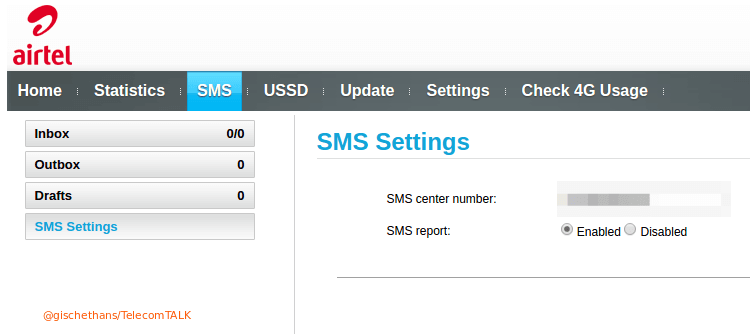 USSD
The USSD capabilities were good and some handy options were readily available in the form a combo menu.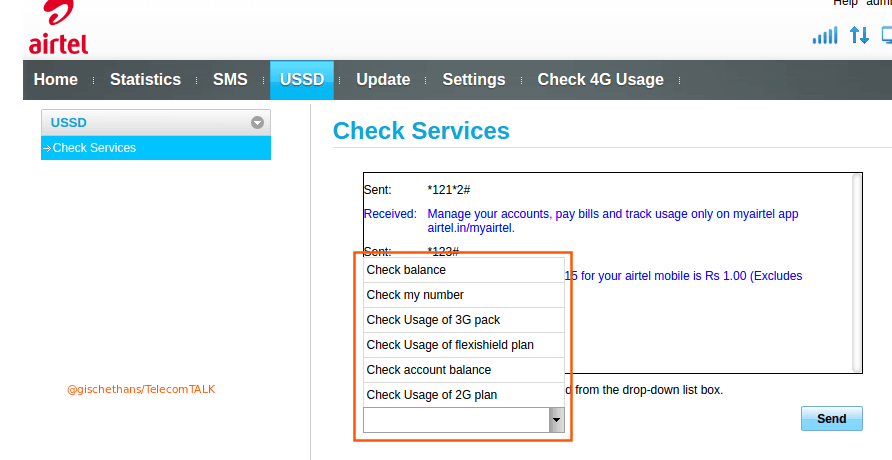 Settings
Lots of useful options are present in the intuitive settings page. We specifically liked the ability to restrict the network mode to 2G, 3G or LTE only. With the hotspot being a battery operated device, this feature can be particularly handy when travelling to regions with poor or no 4G / 3G connectivity in order to conserve battery.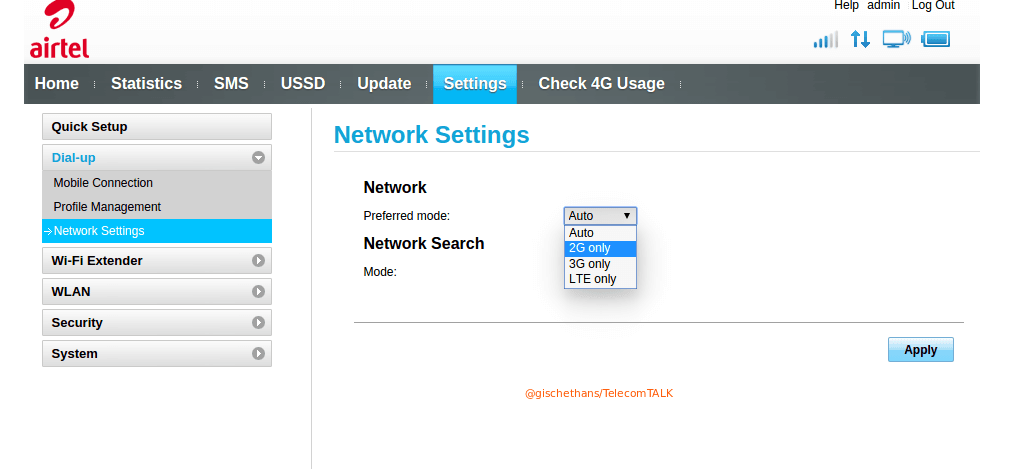 Advanced Security settings were also available for power users.
Battery Life
The battery used to last for 5 - 5.5 hours and used to take up to four hours to charge completely. We were always on LTE network.
What we missed?
Indicator Lights - While both the network and battery indicators stay lit up when connected through USB, they power off on wireless mode. Thankfully battery indicator glows red when battery reaches low levels. Initially this caused some confusion as to why the device was powering off instantly! Later when other devices were able to detect the hotspot and connect to it, we were relieved.
Phonebook - As the device comes with the ability to send messages, a phonebook would have been handy. Airtel's 3G Wingle (a ZTE device) has this capability.
SD Card support - another missing feature was SD card support which is very common in USB dongles. Again, the 3G Wingle had this.
Verdict
Overall, the Airtel 4G Hotspot is a good to have device if you are a regular traveller and use multiple gadgets. With 4G available at the price of 3G from Airtel, you can certainly invest in this device and take advantage of good speeds. Sreenivas who recently bought the device in Chennai said this on twitter -
@gischethans getting 16 Mbps. Device is good. Totally ????????

— Sreenivas ? (@i_sreenivas) June 7, 2015
Do you own a Airtel 4G Hotspot or are planning to buy one? Let us know your experience or expectations.
We thank Airtel AP Circle for the opportunity.