Google at the launch event of Pixel 2 device on October 4 said that they will provide software updates to Pixel 2 devices for three years. Everyone was wondering whether the promised three-year updates in security updates or next three iterations of Android. Well, Google has come up with an answer for that, and that is: Pixel 2 devices will receive next three Android iterations until 2020.
Google has just updated its software support page of the Pixel 2 smartphones and revealed that it will be delivering three major OS updates for Pixel 2 and Pixel 2 XL, along with the monthly security patch updates. Earlier, Google used to deliver two major software updates for its devices and security updates for three years. With this move, Google is pushing users to purchase the Pixel 2 or Pixel 2 XL.
Software department plays an important role in an end-user experience and Google wants to bank on it. Having said that, more and more smartphone brands in recent times have joined the bandwagon of offering stock Android on their smartphones such as Nokia, Lenovo, Essential, and so on. To differentiate the Pixel 2 devices from the competition, Google promised three major software updates.
"Pixel 2 (2017) phones get Android version updates for at least three years from when the device first became available on the Google Store. After three years, we can't guarantee more updates," as said by Google in the software support page. This essentially means that the Pixel 2 and Pixel 2 XL will receive Android R update in 2020 if at all Google follows its tradition of naming next Android iteration succeeding an alphabet.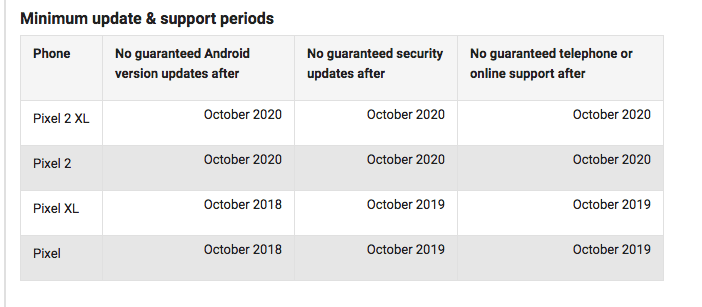 Google, last year launched the first generation Pixel smartphones, which impressed one and all with their performance, especially with cameras. And it continues with the Pixel 2 lineup. Several international reviews claimed the Pixel 2 XL as the best smartphone of 2017, bearing the LG-made OLED panel.
The Pixel and Pixel XL recently received Android 8.0 Oreo update and will receive Android P update next year. That said, Android P update in 2018 could be the end of the road for Pixel 2 series. However, they both will receive monthly security patch updates for another 12 months.
The Google Pixel 2 and Pixel 2 XL are yet to make an appearance in the Indian market. Google will start selling the Pixel 2 starting November 1, and the Pixel 2 XL starting November 15. Pre-orders for both the smartphones will start from October 26, which is less than a week away from now.