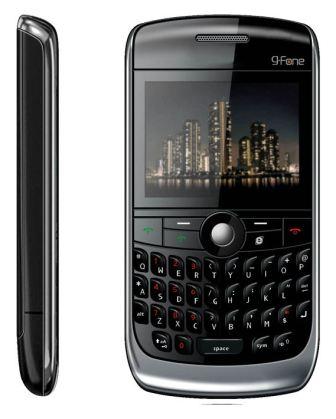 G-Fone today announced the launch of G-FONE 571 for Indian consumers,G-Fone 571 is equipped with 208 MHz speed processor.The company claims G-Fone 571 takes the mobile movie viewing experience to a completely new level.

G-Fone 571 will be available in two colors- black and white, and looks extremely sleek with the metallic body, the 2.2" landscape QVGA display and QWERTY keyboard. The G-Fone 571 has a 1.3 mp Camera with flashlight, FM radio, MP3 Ringtones and Music Player ,Stereo, Bluetooth and has an expandable memory of upto 8 GB.
G-Fone 571 comes with Mobile Tracker, Long Distance Control, an Indian Calendar, Motion Sensor, Web Cam, Built-In Modem, EDGE connection, Opera mini and USB. What's more it gives you dual sim option to make life even more convenient.
Some of the pre-installed application in G-Fone 571 are Snaptu and Nimbuzz which is a mix of social and lifestyle applications on the other hand Nimbuzz  lets you call, chat, message and swap files on the go.
With the high speed it gives and the superb features it boasts of, G-Fone 571 comes for a price tag of  Rs.3999/

G – FONE 571 – Specification in Details - 208 Mhz
* 64000 Colors OVGA Display
* Screen Size – 2.2"
* Phone Book – 3000 X 8 Fields
* SMS – 2000
* Mp3 Ringtones
* FM Radio
* Mp3 Music Player
* 1.3 Mp Camera with Flash Light
* Your browser may not support display of this image. Unlimited Video Recording
* Video playback – Full Mp4 Support
* Expandable Memory up to 8GB
* Mobile Tracker
* Long Distance Control
* Stereo Bluetooth
* USB
* Web Cam
* Built In Modem
* EDGE Connection
* Nimbuzz
* Snaptu
* Torch Light
* Blacklist Calls & SMS
* Email
* Java Enabled
* Motion Sensor