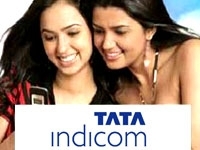 Tata Indicom offer election updates to its subscribers through its value-added service 'Elections 2009'. Subscribers can access this service through SMS, Tata Zone, Voice SMS and CRBT, Tata Indicom said in a statement. The service will provide information on elections, from latest news, updates on candidates and party profiles.
To avail the service through SMS, subscribers need to type 'ELE' and send it to 58282 to get election updates and each SMS will charge Rs.3 per SMS.
Tata Indicom is also offering an election pack for Rs 10 for seven days, where the subscriber would receive two election alerts and profile of one candidate daily.aily basis at just Rs. 10/- for 7 days. To avail the subscription service, subscribers will have to type 'sub ELE' and send it to 582820 (toll free code).
For in depth knowledge and other information like election schedule, election commission of India, richest politicians, celeb stars, party symbols etc, and subscribers can also log onto Tata Zone and click Chunav Pe Nazar link to avail this information. To encourage participation in the elections, subscribers can also dial 12800(Charges Applicable) for selecting election based songs as their Welcome Tune on the voting day. Using Voice SMS platform, Tata Indicom is also encouraging subscribers to vote where voting is due.