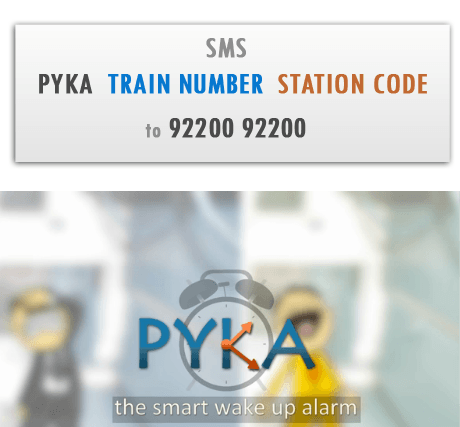 Ideophone Technosol Pvt. Ltd. a Bengaluru based software company has introduced a unique service known as PYKA through which now you will be able to set a reminder of your travel plan.
It works wonders and just like an alarm system the whole process has been designed keeping in mind the use of cellular phones since its the only thing we are mostly hooked too all the time. Life without cell phones is nowadays is next to impossible.
So PYKA helps to keep a track of your train journey.
It will remind you of your journey. PYKA is a journey-aware smart wake up service for train passengers. It alerts the passenger prior to reaching their destinations. All you need to do is just send a short text from your phone.
A main objective of PYKA arises from the below to conditions:
Do you travel by train? And, would you like us to call you and wake you up just in time to get down?
Do you want to be on time to receive your guest instead of waiting when the train is delayed?
PYKA will resolve all problems. Passengers need to send an sms in the following format :
PYKA TRAIN NUMBER STATION CODE to 92200 92200
Sample Message
PYKA 12677 SBC 16-08-2011
This message sets a wake-up phone call for Bangalore City-Ernakulam Intercity Express reaching Bangalore City on 16-08-2011
pyka train_number station_code [arrival_date] [mobile] [minutes]
train_number

Number of the train in which the passenger travels

station_code

Station before which wakeup call is to be made

[arrival_date] (optional)

Date of arrival at the destination for future journeys

[mobile] (optional)

Mobile number, if different from the sender

[minutes] (optional)

Minutes before reaching the station, when alarm needs




to be raised (default: 20 minutes)
Always keep in mind : The service is in beta testing phase. SMS delivery and Voice calls depend upon a number of factors including network connectivity, congestion, and the phone being powered on. Also, alarms can sometimes use the schedule information.