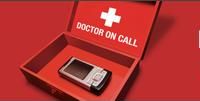 Some time back Loop Mobile (formaly BPL Mobile) and Aircel followed by Reliance Mobile introduced Doctor on Call a VAS powered by HealthCareMagic. Now Patient-doctor link portal HealthcareMagic has said its subscribers now can not only consult a doctor on phone but also pay their fee by phone.
The company has tied up with mobile payment service provider Atom Telecom to provide IVR-based payment option for the service. It has tied up with insurance and telecom players including Reliance Telecom, LoopMobile (BPL Mobile), Aircel, ICICI Lombard and Bajaj Allianz.
Patients can now interact with doctors by dialling a Mobile and Landline number to get medical assistance for their illness or common query, a release by the Bangalore-based HealthcareMagic said. The charges range from Rs 160 to Rs 999 and can be paid through mobile or landline using credit card.
HealthcareMagic launched its 'Doctor on Call' and 'Doctor on Click' live chat service over a year back. The charges were collected online; now this extends to phone-based payment, a spokesperson said.The option of paying over the phone will cover all 400 million telecom subscribers and 40 million landline subscribers across the country.
Providing m-payment facility for our customers will definitely increase our subscriber base and smoothen the payment system as the mobile penetration in India is more than the Internet, Atom's technology will definitely help get more visibility" to the service, said Dr Abhilash Thirupathy, VP-Marketing & Business Development, HealthcareMagic.
Those seeking medical advice need to dial HealthcareMagic's call centre number and choose from various packages. They would then be connected to Atom IVR to pay by credit card over the phone. Once the transaction is done, the customer is connected to a panel of doctors. The service is initially available from 9 a.m. to 9 p.m. in English and Hindi. The company plans to make it available 24x7 in more languages, and also bring in advice from super-specialists.