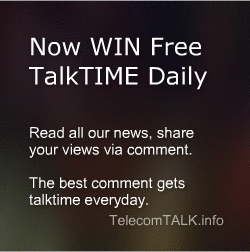 We at TelecomTALK strive hard to make our site the best platform for anything related to Telecom. Readers would have noticed that since recently we have ventured into covering gadget launches, reviews, publishing customer stories etc. Our main moving force is the encouragement we receive from our readers in the form of comments. Readers always felt free to appreciate the posts, point out drawbacks and suggest improvements which we have always taken in the right positive spirit. Today, in a bid to make the platform more useful and interactive, we are formally launching 'Comment and Win' feature.
Comment and Win
On a daily basis we receive hundreds of comments of various natures. People post queries, seek suggestions for their next mobile phone or internet service provider and likes. The readers have been always helpful towards such queries and have provided satisfactory answers. Inorder to encourage such fruitful interactions we decided to launch 'Comment and Win'.
Under 'Comment and Win' we will be rewarding the best comment every day with a certain value of free talktime. The amount will be fixed on a daily basis and would range from Rs. 25 to Rs. 100 depending on the quality of the comment.
We also take this opportunity to thank our regular commenters who have been doing a wonderful job in terms of enhancing visitors knowledge. On this occasion, special mentions to our long term Critics/Analysts Rama, Saurabh, SS, Ganesh Srinivasan, Esmail, Kaushik and Adil watch out for their expert views .

Terms and Conditions
Winner would be announced every day by 11:30 PM on our social channels (facebook ).
Winner would be contacted on email provided while commenting. So make sure you use a real email ID.
Winner has to approach us within 24 hours after announcement of the name and receipt of our email.
Amount will be credited to user's prepaid mobile number by TelecomTALK within 24 hours of the receipt of mobile number.
The choice of the winner would be made by us – our decision is final and binding.

Any queries regarding non-receipt of talktime may be brought to our notice. We will work towards checking the cause and resolve the matter.

The comment must be a genuine one and must not be a copy-paste of some review which appeared elsewhere.

You can win any number of times. So if you win once, you need not stop commenting.