With spectrum crunch and more subscribers using mobile internet, operators over the globe are fighting to make a congestion free network. Most operators moving towards diet data plans ditching buffet of unlimited data plans. Even operators pledge to the users not to abuse the network - 'save your heavy jobs for home broadband'.
Pioneer of GPRS in India, Aircel also moved to data cap of 3GB/month withdrawing unlimited usage. Now for Rs 100 we can have 2GB to 6GB data usage per month over GPRS/EDGE network from most operators.
On 2G segment only MTNL, STel and Videocon continue the unlimited data plans. After using the free data charge is around 10p/10kB which is Rs 10/MB or Rs 10,000/GB.  3G data plans are also damn costly, and Pay-As-You-Go plans are ridiculously costly. With fast 3G connections, 2GB can be blinked away within a week and after a month you will get a bill shock!
Well Opera Software, maker of Opera Browser for every platform(Windows, Linux, Mac, iOS, Android, Symbian, Java, MeeGo etc) has a solution of this data cap. This is Opera Turbo, introduced on Opera Desktop browser too. Opera Turbo is pre-installed and pre-set on Opera Mini, is meant for server-side compression to help users browse the web using far less bandwidth than rival browsers.
Though Turbo is in business for around 2 year the difference, however, wasn't measured precisely by Opera, until it published this comparison graph: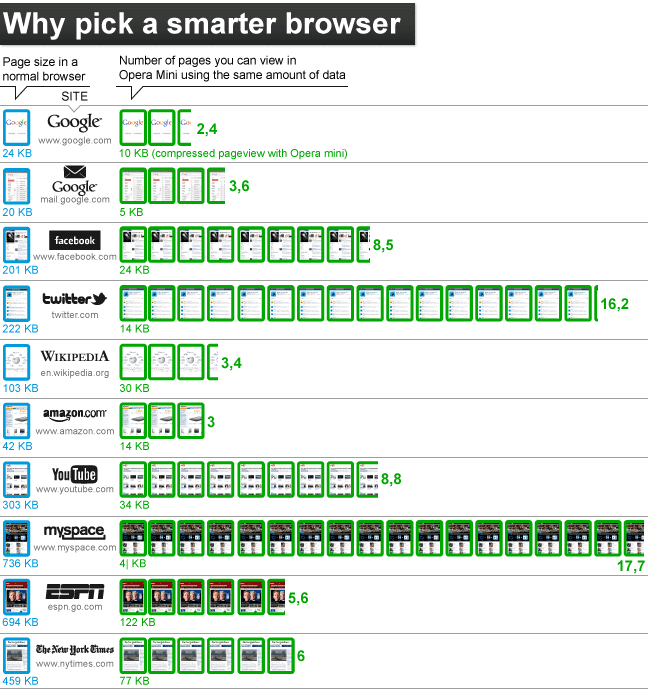 So we can you can browse Wikipedia 3.4 times with Opera Mini which supports proxy compression compared to a normal mobile browser.
Lars Boilesen, CEO, Opera Software said "I hate billing surprises and I don't want to obsess over each page load. I just want to check my email, browse the web and use apps. I think most people feel the same. That's why we recommend some common-sense strategies to get the most out of these new plans. A few simple tips can go a long way."
Opera's top tips:
Open the full email only if necessary. Open email attachments sparingly, if at all.
Manage your apps' hunger for mobile data. Disable push notifications.
Consider using a smart mini browser, like Opera Mini. These keep you from downloading too much data to your phone.
Spotify is awesome, but use your locally-stored playlist when on the go.
Update and download apps over WiFi.
Consider using mobile-friendly webpages. Our research shows they shave off a significant amount of data that otherwise would count against your cap.
Turn off images when nearing your cap. Most browsers make it easy. In Opera Mini, just click Settings > Load Images.
Avoid HD video on YouTube when browsing on a mobile connection. Just 10 minutes of HD video per day fills a standard 2GB plan.
If you are a mobile internet user and still haven't tried Opera Mini (R U kidding? ), get it on m.opera.com.