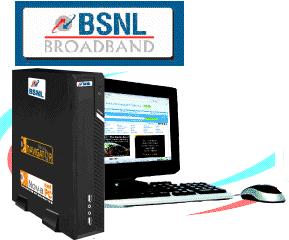 State owned major Calcutta Telephones has launched a new scheme of offering One Free Lifetime Prepaid Mobile Connection to New Broadband Customers till 14.12.2009.BSNL seems to take a step ahead in luring customers with free stuffs to grab a portion in the rat race among operators.
This new scheme is targeted only towards the new broadband customers and not existing customers.The new Broadband customer will be offered with one free Pre-paid Life time mobile connection having zero initial talktime and one free FRC (First Recharge Coupon) of Rs 15/- to make the validity of 180 days and talktime of Rs 40/-
In order to apply for the new connections the following terms and conditions are to be followed:
•Broadband Customer should submit filled in Pre-paid Life time Mobile application form with a copy of last paid BB bill at the respective CSC to get the Mobile connection with validity of 180 days.
•On receipt of filled in application form, CSC In-Charge will issue the Lifetime pre paid SIM after  getting it recharged with the FRC of Rs 15/- after verification of landline and BB connection.
•On receipt of filled in application form, the SIM Id along with name and address is to be inserted in the application.
•All BB Customers including BB connection against Residential Service telephone number, retired DOT/BSNL employees and SE Category telephone connections are eligible for the above free pre paid Life time Mobile connection.
•This scheme is not applicable for Franchisees /Agents.
Inputs-IshanDas Kolkata