Bharat Sanchar Nigam Limited (BSNL), the current leading player in the Indian wired broadband space has extended the validity of its entry-level broadband plan- BB249 again, but this time, it regularised the plan, meaning the plan now doesn't have an expiry date. Earlier, BSNL offered the BB249 broadband plan on a promotional basis until June 30, 2018, but now, the plan doesn't have any 90-day expiry period. BSNL is offering this plan on a pan-India basis, and it provides benefits such as 8 Mbps download speed, unlimited free calls on BSNL network within India and unlimited voice calls to any network between 10:30 PM to 6 AM. For the unaware, BSNL launched this plan back in 2016. Here are the five things you need to know about the BSNL BB249 broadband
plan.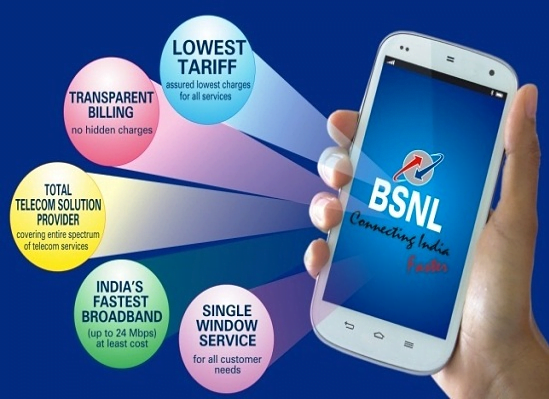 Offers 8 Mbps Speeds Until 5GB
The first and foremost thing to consider in a broadband plan is its speed. The BB249 plan from BSNL provides 8 Mbps of download/upload speed. But sadly, the 5 Mbps is limited to just 5GB, post which the speeds will be reduced.
Unlimited Data at 1 Mbps Speed Post 5GB
Same as other broadband players, BSNL is also offering unlimited data once after you consume the alloted 5GB of data. The post-FUP speed is 1 Mbps, and there's no FUP at this speed though.
Valid on Pan-India Basis With Security Deposit of Rs 500
Since the beginning, BSNL offered this plan on a pan-India basis and the same continues going forward. Also, at the time of installation, BSNL will be collecting Rs 500 as a security deposit and the minimum hire period for the same is one month.
Unlimited Voice Calling
Another best part with BSNL broadband plans is they come bundled with voice calls and the BSNL BB249 plan is no exception. BSNL is providing 24 hours of free voice calling to a BSNL network within India, while to other numbers, the voice calling is limited between 10:30 PM to 6 AM. This plan is also eligible for voice calling on all Sunday to any network within India.
Flexibility to Choose the Plan for Longer Period
After regularising the BB249 plan on a pan-India basis, BSNL has announced Annual payment options for the same. A user can now choose the BB249 broadband plan for one year at Rs 2,739 (rental for 11 months and one-year free subscription). Customers can choose the same plan for two years at Rs 5,229 (rental for 21 months and three months of free subscription), while for three years, the rental is set as Rs 5,229 (30 months of subscription and free six months subscription from BSNL).
This post was last modified on July 10, 2018 11:00 am