This is a time where everyone hates to remember multiple login details, particularly passwords and companies are trying to break the barrier by providing login less facilities. BSNL has been introducing such facilities stage by stage in the name of QuickPay - first for landline, FTTH, DID and later after a long gap similar facility was introduced for WLL/EVDO/CDMA postpaid bills. Now the login less facility has been extended for prepaid mobile subscribers as Quick Recharge.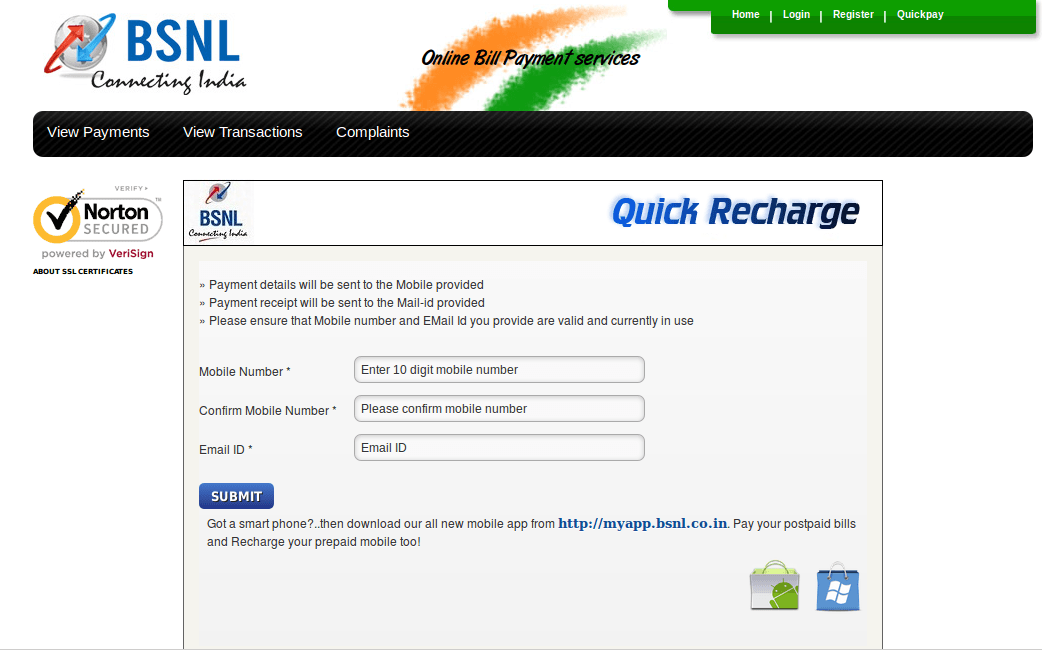 The new facility asks to provide mobile number twice (good move as users may make a typo) along with an email ID. The second screen allows the user to choose TopUp or STV or Plan Voucher. Only available vouchers based on the mobile number provided are shown. Below are the plans in Karnataka.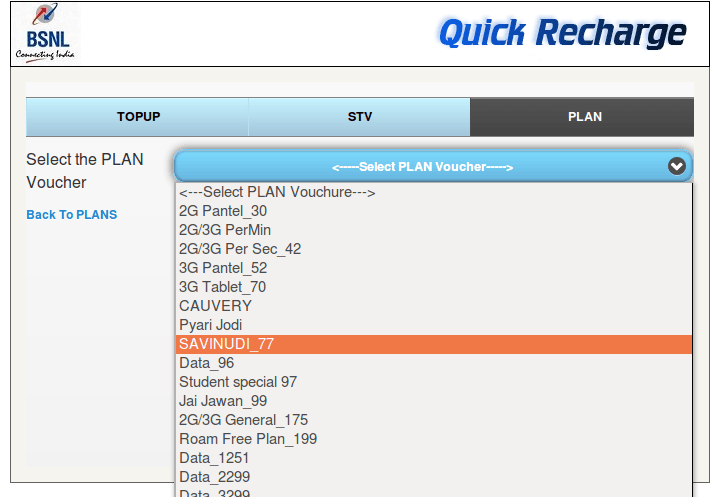 The site also allows users to check the previous transaction and payment details by providing transaction details or mobile number or email ID as may be the case.
Where BSNL Fails?
While things looked good so far, BSNL could not identify their own mobile number! I provided my Andhra Pradesh mobile number wherein I was shown this message.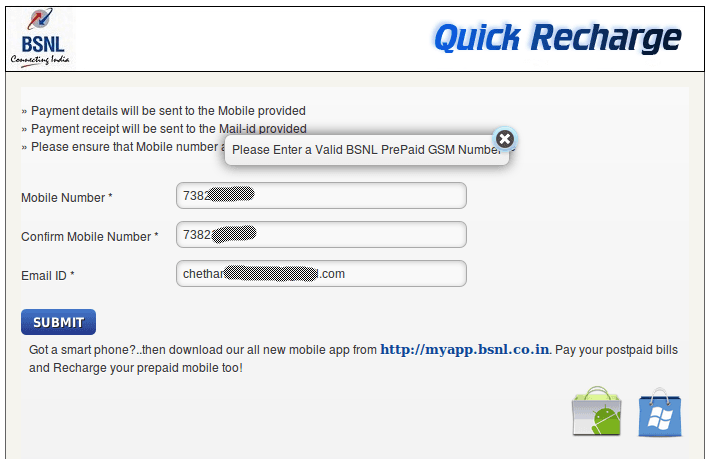 I re-entered my mobile number few times, but the issue prevailed. I have a number which starts from 7382, and no it is not an MNP number, but a number series given in AP circle by BSNL! The number is over two years old, and it is a joke that BSNL's system could not identify their own number. I can't forgive BSNL as the site is maintained by ITPC, Hyderabad and doesn't recognize an AP mobile number.
Irony is that the same number is very much recognized after logging into BSNL Portal! Now before BSNL issues a statement stating they are ironing out the issues, I must say that I have faced this 'number not valid' issue quite a few times in BSNL's own websites - BSNL portal for alert registrations two years ago, complaints portal throwing up strange errors etc.. However, I did not bother complaining so far as I could solve my issues through other channels, and they tend to work after months! But now I feel BSNL must fix the problem, after all. :)
There is a complaint section in the same portal which does not provide a good option for prepaid complaints.
I don't understand how a prepaid customer can have outstanding bills!
So readers, will you use this new facility from BSNL? Let us know.
Finally, thanks Darshan Malu for the tip.
Update (18 Jan. 2014, 21:17 IST): Checking someone's prepaid account balance and validity just got easier
As one of our readers Saket rightly pointed in a comment below, the website shows the amount in prepaid account and the remaining validity for the number. This flaw has been there in BSNL Portal since inception, but user had to at least login. Now anyone can check any BSNL prepaid user's account balance and validity. To verify, I just checked a friend's account validity. I just had to key in his number and choose a random top-up! :P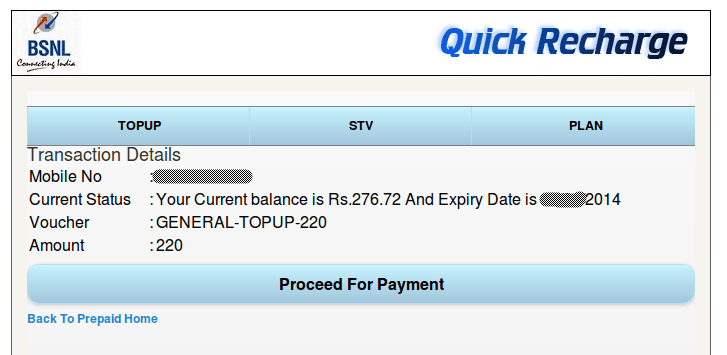 Update 19 Jan. 2014, 15:35 hrs IST:
My number starting with 7382 was recognized now by BSNL's instant recharge website. Now I'm not sure if this is the impact of this article or if the number gets recognized now and then as mentioned by one of our readers in comments below. The other issue of balance and validity displayed to the public still remains.