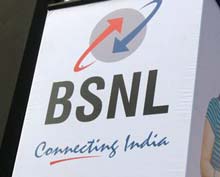 Valuation and security concerns are taking a toll on state own Telecom Operator Bharat Sanchar Nigam Ltd's (BSNL) network expansion plans objections have also been raised over the company's choice of mobile equipment vendors on security grounds.
BSNL,which has around 60 million subscribers, clocked revenues of over Rs 38,000 crore in 2007-08 however, the company has been losing market share  to private operators such as Bharti Airtel just because of expansion of network capacity was not done on time.
Earlier, the company had shortlisted China-based Huawei and Sweden's Ericsson for laying out world's largest order of 93 million GSM lines in the country. The expansion plan, worth around Rs 30,000 crore, is the single-largest telecom contract in the world. But the intelligence bureau and the defense and home ministries are opposed to awarding a deal to a Chinese company for providing network in sensitive areas.
Ericsson was the lowest bidder in the northern and eastern regions, while Huawei emerged winner in the western, eastern and southern zones the western and eastern regions share boundaries with Pakistan and Bangladesh security agencies contend that vendors of suspect origin, especially from China, may install devices that might lead to "snooping" by outside agencies.
BSNL got approval to award the contract to Huawei in the south as the region does not share borders with other countries. For the western and eastern zones, the company will have to renegotiate a deal with other bidders — ZTE, Nokia Siemens and Alcatel Lucent who were disqualified on technical grounds.Delhi High Court today dismissed a petition filed by mobile equipment vendor Nokia Siemens Network seeking a stay on the tendering process of BSNL.
Nokia Siemens had lodged a complaint with the Central Vigilance Commission alleging that BSNL might have changed the tender conditions in favour of some of the bidders.
The Finnish company had also filed a petition with Delhi High Court seeking a stay on the tender process.
Delhi High Court today stated that the matter pertained to tenders floated in the Chandigarh, Maharashtra, Hyderabad and Calcutta zones.This is not the first time that BSNL's rollout plans have come under rough weather. The previous project of 45.5 million GSM lines had also run into controversy after one of the bidders — Motorola — dragged BSNL to court for disqualifying it from the bidding process.