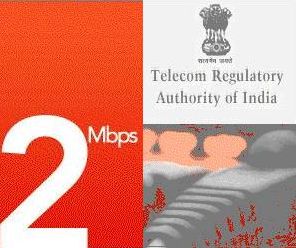 Telecom Regulatory Authority of India (TRAI) has  recommended that the Department of  Telecom (DoT)  should make it mandatory for Broadband speeds to be at least 2 mbps.
That means any of Broadband service offered in India to customers in the market would have to be 2 mbps and more. If the DoT accepts the recommendation than the Telecom Operators or Internet Service Provider would not offer Internet packages of 256 kbps labeled as Broadband.
Currently, the definition of Broadband as per the Indian government's ruling is 256 kbps and above. This means that an Internet Service Provider (ISP) can offer packages of 256 kbps labeled as Broadband. This was made a requirement a couple of years ago. Now the times have changed and the ruling has to be updated.
TRAI said in its recommendations regarding the Broadband speed that other countries are already touching speeds of 20 mbps and more.
India has to catch-up to stay competition at a global level Hence the Indian telecom industry is not happy with these recommendations. According to the telecom Industry, They did not think it is feasible to move from 256 kbps to 2Mbps in one shot.  If at all the definition has to be revised then they should move to 512kbps, otherwise it will be too costly for both operators and subscribers.
TRAI's move is however supported by the Broadband Internet Users. The internet users of India are tired of pricey connections which are sold in the name of Broadband with less speed. Most of the users feel that the 2mbps unlimited (real unlimited) without fair usage policies should be offered at affordable prices by telecom and Broadband service providers.