Indian telecom sector is going through a crunch phase. India has a new government which promises to deliver some landmark decisions to revive the telecom sector from doldrums. India's broadband penetration is dismal 4% while government is falling flat on its policy decision to connect 2.5 lakh gram panchayats by optical fibres has made National Telecom Policy's (NTP 2012) vision for "right to broadband" a distant dream.
India's mobile data traffic saw the growth of 87% in 2013 due to proliferation of smartphones  and India's changing lifestyle making them use more of social media, web browsing and chat services helped by decreasing data planes has made Indian appetite for data grow bigger and bigger. This data hunger is not going to stop here as broadband and smart phone is still at very nascent stage with penetrations of 4% and 10% and with 3G and 4G technologies still to make their mark in Indian market this hunger will multiply manifold times. But Indian operators are short of spectrum and highly indebted making them unable to realise this huge potential lying in front of them by deploying more macro cellular networks. What Indian operators require today is cost effective solution to accommodate ever-increasing data traffic which makes TV White Spaces highly critical for India.
Wi-Fi, used for providing broadband access has limited coverage and the current unlicensed 2.4 GHz and 5 GHz spectrum bands are overcrowded whereas TV spectrum signals can penetrate through walls and provides higher coverage and is less crowded unlike traditional Wi-Fi bands. These features of TV white space result in a low infrastructure cost. Lower infrastructure cost and higher coverage will balance the low financial returns in rural areas of India and will attract vendors to provide services in rural areas also thus bridging the digital divide. Also the current switchover from analog television to digital television has freed up more spectrum in analog TV spectrum which has created a huge opportunity for service providers.
Few methods are available to use TVWS for the secondary users without interfering with the transmission of primary users. These methods are geo-location database and spectrum sensing. A spectrum sensing technique is used to identify the available spectrum gaps and to detect transmission by primary users. The geo-location database requires primary users to register themselves in the database, secondary users then have to identify their locations and then they can get information about available free channel and maximum transmit power from the database.
In India large bands of frequencies (470 MHz – 698 MHz) are allocated for TV transmission but since in India very few terrestrial TV broadcasting stations are stations are there which mainly include state run Doordarshan, DD news, and other regional channels, large chunks of spectrum are available in this band which can be used for licensed or un-licensed use to increase broadband penetration in India. Apart from these, there are protective bands of unused spectrum (white space) between bands occupied by TV signals which originally serve the purpose of preventing interference. These guard bands in future will not be needed with the newer digital technology replacing older analog TV signals.
TV Spectrum allocation in India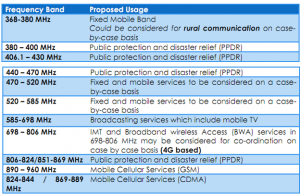 Due to the lower frequencies of these white space signals, they can travel much further (30-50 kms) and can easily penetrate through buildings and hence are technologically and economically viable in sparsely populated rural and sub-urban areas for broadband access.
TV bands are licensed bands and according to current Indian regulatory norms users are not allowed to access them. The packet transfer over TV band has both licensed and unlicensed model. Licensed model is one in which the network operator has the dedicated chunk of TV spectrum from the underutilized TV bands and provide services in that band. But unlicensed band is what creates business interests in TV bands. These bands are going to free up after digitization of TV services. Since these bands are non-contiguous they are termed as TV white spaces and since they are unlicensed anyone can use it but it needs to be regulated to prevent any harm to primary users.
Although TV white spaces have numerous benefits it provides some challenges too. The foremost challenge is to detect an empty slot or gap in the spectrum and use it for data transmission since empty slot is only available when it is not being used by the primary user and as soon as primary user is detected the empty slot will be allocated to him. This might result in disruption of services. Also since different frequencies might be vacant at different times conventional transceivers cannot be used which operates on fixed frequency , so software defined  radios in which frequency of transmission and reception, power of transmission, modulation scheme, error detection codes and channel model etc. are software programmable have to be used.
Till now no effort has been made by Indian government to auction these white spaces but a year back DOT(Department of Telecommunications) was planning to use white paces for Wi-Fi but no progress has been made after that, may be they are waiting for complete digitization of TV services. In the meanwhile many countries already have regulations to prevent exploitation of white spaces and companies like Microsoft are working to harness the potential of white spaces to deliver broadband services. With Indian entering into the data revolution age, in order to write the success story, Indian government should take immediate measures to utilise this big potential in the name of TV white spaces which will not only propel broadband penetration but also encourage economic growth of India since every 10% increase in broadband penetration accounts for 1.38% increase in per capita GDP growth.