Further to unboxing the Airtel 3G Wi-Fi data card,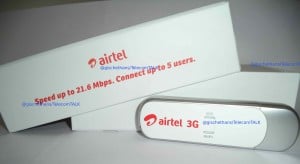 we subjected the Wingle (Wi-Fi data cards are also called Wingles to a variety of tests of over 31 hours over past three days. Our tests included speed measurements along with some heavy downloading and browsing. All tests were done at Hyderabad on an Ubuntu laptop.
Speeds
The key metric for any broadband connection is speed. As we experienced with our on-the road review earlier, speeds were very consistent. Here is an interactive chart of the same:
A Static chart in case you are unable to see Google Docs chart above:
The upload speeds were poor throughout and crossed 1 Mb/s just once during the entire period. If you are a media content creator who needs to upload a lot of content this might pose problems. The upload speeds were better in case of the Photon MaxWingle which we reviewed last week.
Speed tests were done using speedtest.net.
Ping Test
This time we also included ping test in our tests. The results were again consistent and zero packet losses were experienced. Here is a sample result:
About Ping Metrics
Download and Video Streaming
We downloaded two Operating System ISO images. A 1.25 GB Linux Mint ISO could be downloaded through Torrents in flat 34 minutes with a peak speed touching 749 Kb/s. A 0.94 GB Ubuntu ISO could be downloaded in around 30 minutes through Download Them All! add-on on Firefox. Peak speed touched 725 Kb/s here.
Watching HD videos was a pleasure with absolutely no buffering time! Parallel browsing was also not difficult. We tried HD video streaming on YouTube and music streaming from gaana.
Device Features and Management
The Device
Setup
No special procedures like software installation was involved in Ubuntu. It was just plug-and-play. The device could latch on to Airtel's network in a matter of seconds.
Dashboard
The management dashboard is simple and attractive.
Powerful Setup Options
SMS and Phone Book
We particularly liked these features which were absent in Photon Max Wingle. The phone book can hold up to 350 contacts and device can hold 100 SMS.
Phone Book
SMS
Data Limit Feature
A pretty useful feature if you fear exceeding data limits.
What we didn't Like?
A personalized home page for Wingle users which shows details like data consumed, validity etc. is poorly designed. In fact, it is powered by a third party platform called WebsiteForever. The page has movable elements and a user can add websites of choice, but it has a very bad layout! Airtel could have chosen a better solution.
Verdict
Airtel 3G Wingle is a value for money deal which can certainly provide superior quality experience to end users. As noted in the earlier post, Prepaid customers would be getting 6 GB free 3G data valid for a period of one month with the device. The Wingle is network locked and is available at a special promotional price for Airtel 3G customers.
Would you prefer an Airtel Wingle or any unlocked Wingle? Do let us know through comments.
Thanks to Airtel AP Circle for providing us this opportunity.