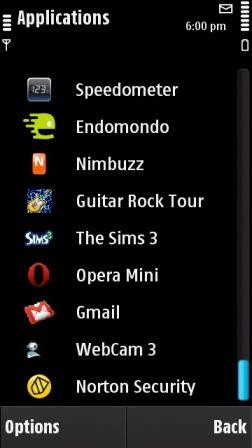 Bharti Airtel has launched Norton Smartphone Security (NSS). Previously we had informed you about Airtel's plan to introduce Voice Blogging Service.
This time we bring another exclusive news for our Telecomtalk readers about Airtel's plan of its Norton Smartphone Security (NSS) service which will enable users to keep their smart phones safe from spam, virus attacks, unwanted messages, mobile spyware and intrusions.
Norton Smartphone Security (NSS) is now available for handsets also. Airtel has tied up with Norton Anti Virus to bring this service exclusively for all Airtel users. Norton is renowned Anti virus software maker in the world. In a bid to keep phones safe from virus intrusions this concept has been brought out by the Airtel team.
Key features of the Norton Smartphone Security (NSS) includes:
1. Advanced protection: Norton AntiVirus automatically scan, detect, and quarantine harmful viruses, worms, and mobile spyware in individual files, file archives & applications, on multiple channels: Wifi, Bluetooth, GSM & 3G.
2. Real-time protection: Enhanced firewall blocks hackers, intrusions, and DoS attacks. Prevents intruders from exporting data from the mobile phone.
3. SMS Antispam: Blocks SMS/MMS from unknown senders. Users can set their protection level.
4. Easy-to-use interface: You can easily manage and schedule antivirus scans and protection updates, set the firewall protection level, and manage file encryption.
5. Always-on and always-updated service thanks to LiveUpdate™
6. Activity Log records information on the device based log about anti-virus and firewall activities, and is available to the user.
Procedure to download the application:
1. Open your phone browser and go to Airtel Live>Services for you> Top Banner
2. Go to the following link using Airtel Live connection:http://10.5.10.79/nss
3. Take note of the issued license code and click on the download link and accept the different files.
4. Once the installation finished access the Norton application on your phone and type your license code to activate your subscription
Pricing details:
Price Point: Rs.10 for 7days
Trial Period: 7 Days
Opt In Message: After 5 Days Auto Renewal Product
Some Frequently Asked Questions (FAQs) for quick reference :
1. How do I get version updates of Norton?
This is done automatically with the Live update function in Norton. (You can run Live update manually from the Norton Menu: "Search for Updates")
2. How can I find out whether my Norton Service is active or cancelled?
Go to the link you received by SMS http://10.5.10.79/nss/optin.aspx, the current status of your subscription will be indicated
Customer can get the same link by sending SMS to 56060 with keyword "NORTON"
3. How can I cancel the service?
Go to the link you received by SMS http://10.5.10.79/nss/optin.aspx and click on the unsubscribe button.
Customer can get the same link by sending SMS to 56060 with keyword "NORTON"
4. What happens to my Norton Service if I change phones?
You have the same SIM card, mobile number and using the same Operating system. You can go to the Norton Download Page and will be issued a License Code. Download Norton on your new phone and activate using this License Code. Note that the subscription is active untill cancelled.
5. How do I delete Norton Smart Phone Security from my phone?
To delete on Symbian:
- On Menu, select installations and then Application Manager
- Select Norton Security and Press Options and then Remove
- All other Norton modules are removed automatically
- Accept any prompts while removing
6. To delete on Windows Mobile:
- On start menu, select Settings and then click on the system tab
- Select Remove programs
- Remove Norton Antivirus and then Norton Firewall
- There is a prompt for phone reboot when Norton Firewall is removed
- Note, that the subscription is active untill cancelled, even if the application is deleted on the phone