Today we bring to you the results of the recently concluded Airtel Customer Satisfaction Survey. A good number of people responded which resulted in a total of 913 responses. We were able to derive some good insights about Airtel's services and how the customer base feels about them.
About the Respondents
We received the highest number of responses from Delhi NCR followed by Karnataka circle. A majority of customers have been with Airtel for over five years now. 13% of the respondents were with Airtel for over 10 years. The survey results under some headings have been divided as responses from metros, cities / towns and villages to present a better picture of some level of disparity that exists in certain areas. The overall percentages looks like this:

80% of the respondents use their Airtel connection for both voice calls and data.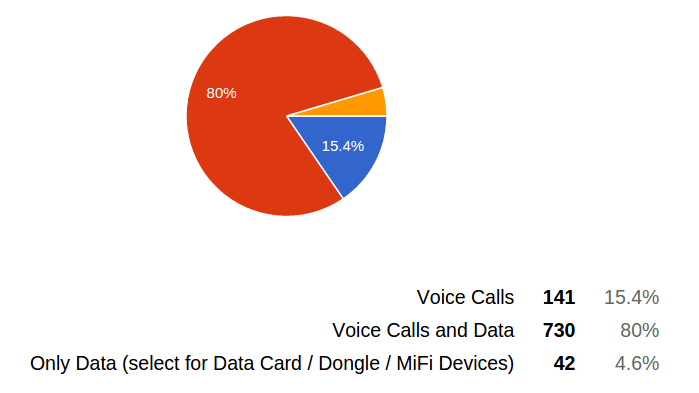 Spending per Month
The major slice of customers are prepaid users.

39.5% of the respondents pay up to Rs. 500 per month and the next price bracket is 500-1000 paid by 31% of the respondents. Metro populace spends are the highest in the > Rs. 5000 category. The spending per month pattern is presented below:
Data Quality
Data Packs
2G packs are still significant and are majorly used in villages and cities / towns. This can be attributed to lack of 3G coverage. Even today 3G coverage is concentrated in densely populated areas and is not available in suburbs and villages. On the other hand 3G usage seems to be at an all time high with 4G inching towards growth. We expect 4G usage to grow even higher owing to numerous roll-outs all over the country and 4G being offered at 3G tariffs. Hardly anyone pays for data at 'pay as you go' rates.
Fast internet is still elusive
A whopping 65.4% of the respondents said they don't get promised internet speeds.

We had asked about peak time and off-peak hour internet speeds and here are the results. Less than 1 Mbps and 1 - 2 Mbps are the speed ranges which is predominant allover.
Data consumption pattern
Highest number of users consume 1 - 2.5 GB data per month followed by users who consume less than 500 MB - 1 GB per month.
Call Drops
With growing number of cell phone users and infrastructure remaining more or less the same, call drops happen. This is more evident in metros and urban areas.
Network Quality
Over 40% of the respondents felt Airtel's network quality has deteriorated.

Competitive tariffs
Unlike BSNL customers, Airtel customers rated the tariffs as 'not competitive' in both call and data segments.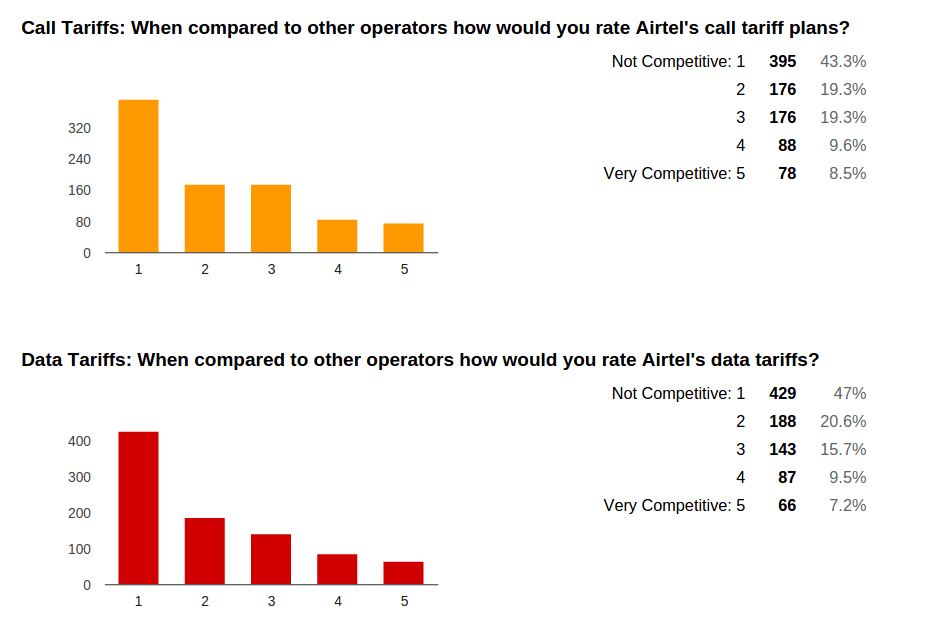 Customer Care
Airtel's customer care received uniform ratings throughout.
Social Channel Support
13.3% of those who used social media support from Airtel claimed that their queries were never resolved. I have personally seen few such cases wherein users have replied back after several months stating no action from Airtel. This often happens in case of network related issues where a time frame is not specified by service providers. Such issues are compounded as Airtel (and even others) generally do not provide docket numbers for complaints booked through social channels. On the other hand 48.6% of the respondents said they never used social support. We would urge everyone to use social support channels as they are normally very effective in terms of resolutions.

There are also cases wherein executives respond without actually reading the tweet, such as this one!
Just when I was appreciating @Airtel_Presence over @tatadocomo this comes! @HuzefaMotiwala @TelecomTalk pic.twitter.com/H3WifKczlw

— Chethan S (@gischethans) June 26, 2015
Port-out Sentiment

App Usage
My Airtel happens to be the most widely used app. Wynk music also has good number of users.

Airtel Money
Airtel Money has failed to pick steam despite of some amount of publicity. 72.5% of the respondents said they don't use Airtel Money.
Recharge / Bill Pay mode
Coming to recharge / bill pay modes users seem to prefer third party mobile apps when compared to Airtel's apps. On web platform Airtel's website and third party websites are neck and neck.

Ad Campaigns

Net-Neutrality
Airtel's stand on widely debated net neutrality has certainly dented the brand image.

How many recommend Airtel?
Lastly, 57.2% of the respondents said they won't recommend Airtel to their friends and family.
Conclusions
Airtel needs to pay attention to providing faster internet access - try to be a true 'smartphone network'. This can also be done by growing the network of small cells which are cheaper to install and serve better.
Mobile data boom is evident everywhere. Airtel and other operators can take a look at this and chart a growth strategy.
The data consumption patterns indicate that Airtel can do the following

competitively price data packs in that range to gain more users
rationalize the prices of data packs so that users move towards higher usage packs. One of our earlier articles based on McKinsey's report suggested a similar approach -

Airtel's KPI (Key Performance Indicators) spreadsheet(s) indicate that average data consumption per consumer comes to less than 500 MB. This is substantiated by McKinsey research which shows that most of the people in all of the countries studied were satisfied with plans that offered no more than 1 GB of data a month. This means Indian operators can aggressively price the data packs offering less than 1 GB data catering to mass market

Increasing / improving quality of coverage is definitely the answer for growing call drops and poor data speeds. One of our latest interviews with small cell maker Parallel Wireless' co-founder sheds light on how small cells can solve this issue. Signal boosters can help too.
Tariffs could be made more competitive (essentially lower rates) to take on other players in the market and grow aggressively.
There is scope for improvement in how social support is handled. Issuing complaint Nos. could be a good way to take things forward.
Mobile money needs a boost in terms of marketing and thereby gain user acceptance.
We plan to have more such surveys in the coming days. Your suggestions in this direction are welcome.
Note: This survey is a TelecomTALK initiative and is not endorsed by Airtel.