Over last weekend several TelecomTALK readers alerted us about an SMS from Airtel that stated 3G on roaming in ICR circles would be charged at 0.5p/10 KB.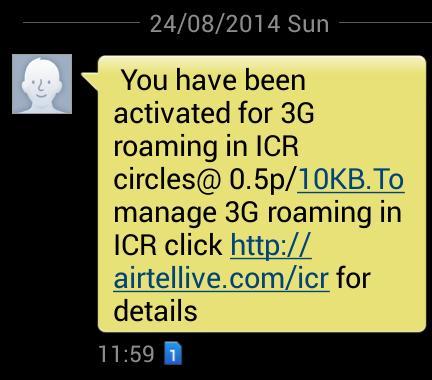 This means an Airtel user with 3G pack activated in any of the Airtel's 3G circles would have to pay for 3G usage if roaming in circles where Airtel 3G is available through ICRA. Even Airtel's website stated the same.
As this seemed counterintuitive to us, we called up Airtel's customer care to confirm. They denied knowledge about any such changes. On further enquiry we discovered that it was a technical glitch and the information on the website was wrong as well!! So Airtel customers need not panic.
This is not the first time Airtel has sent out messages by mistake. In July 2014 they had offered some customers bills in a CD.
We feel a telco of Airtel's stature must be more responsible and make sure inadvertent messages are not sent to customers. Misinformation can be painful to customers. When was the last time your mobile operator sent out such misinformation to you? Do let us know through comments.