Hope it was a very interesting poll dear readers. I really enjoyed reading all the entries submitted. Coming to the results, as already promised i have gone through all the the submissions and gathered a good list of all those entries that grabbed my attention.
Before getting into the results straight away lets check what  the poll statistics says: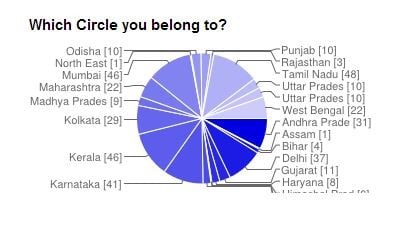 We got highest number of entries from Tamil Nadu followed by Mumbai/Kerala and Karnataka.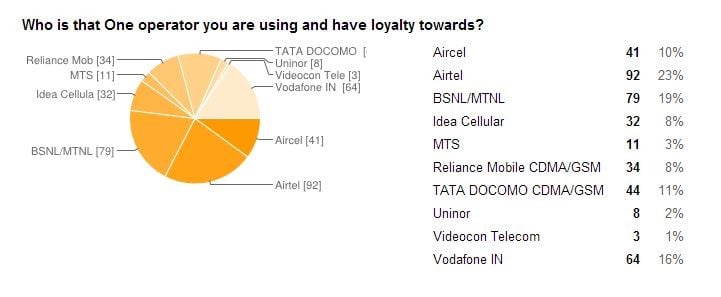 Airtel is clearly the winner followed by BSNL/MTNL and Vodafone IN.

Point to be noted:Most of the loyal customers are not looking for any special services from providers and are just sticking to the services they really want.
When asked what services are you getting from your Loyal Brand?
I have gone through all the entries and jotted few important services
Missed Call Alerts

Dedicated CC Team
Customized plans
Some freebies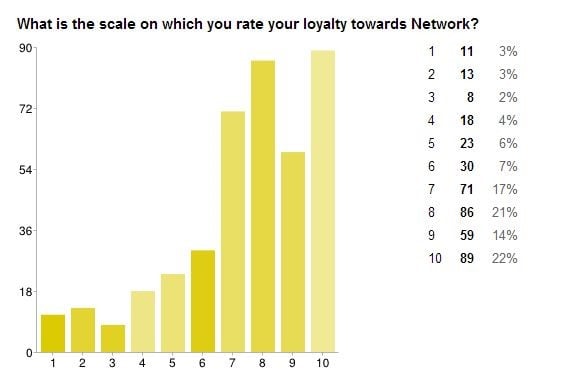 It can be observed that most of the loyal customers have rated 10 to their operators.From this we can infer that those customers who are completely satisfied with their operator are being loyal to their operator brand.
 Whats that one Reason you stick with that Operator?
Again I have gone through all the entries and jotted few important services:
(While this parameter varies with individual to individual i have taken the most common parameters into consideration)
Network

No False deductions
Special Bond due to personal reasons
Qos
Tariff
Customer feedbacks what we received which are worth reading:
1. Operator: Vodafone Customer | Name: Sanchit Malhotra | Circle:Delhi:High Quality of services at my place. A relationship Center nearby and a 24 hr Kiosk wherein I can pay my bills. Movie Offers and other offers are great too.
2.Operator:TATA DOCOMO | Customer Name:Aditya iyer | Circle:Mumbai:Tata never cheats on my bill.Network is ok, but billing is very honest. good value for money plans as well.
3.Operator:BSNL/MTNL | Customer Name:Balram | Circle:UP:Network available at every place for calling (that is 2g)(i faced prob 4 or 5 times only since 2006)
4.Operator:BSNL/MTNL | Customer Name:Suhail | Circle:Kerala:Best tariffs without STV! That's why I love it and good coverage!
5.Operator:Airtel | Customer Name:Amit Kumar Das | Circle:Kolkata:Best coverage, Best network, Best Quality Of Service, Best Customer support, Prompt Service. Their service team even came to my house to solve a minor coverage issue.
6.Operator:Aircel |Customer Name:Hitesh | Circle:Andhra Pradesh:Cheaper Than Others With Better Network
7.Operator:Vodafone | Customer Name:Gavin Mathos | Circle:Maharashtra:High Speed Internet,Good Network,Giving Special Offers,No unwanted Messages.24 Hour Recharge or Payment available though Online or through Vodafone Kiosk,Good Tariff Plans,Faster resolution of Complains through Customer Care, Vodafone Store, Nodal / Appelate Officer or though Website.I likeVodafone. Vodafone is the Best!!!.
8.Operator:Airtel| Customer Name:Aaruna | Circle:Andhra Pradesh:it is reliable and available everywhere
9.Operator:Reliance | Customer Name:R R Kumar |Circle:Tamil Nadu:Great coverage and voice clarity of Reliance CDMA.
10.Operator:TATA DOCOMO | Customer Name:Pankaj Purohit |Circle:Mumbai:Special affection to brand TATA due to transparent service.
11.Operator:TATA DOCOMO |Customer Name:Deepak |Circle:Andhra Pradesh:I love the sec pulse idea! TATA DOCOMO revolutionized the telecom sector in India! Its the most innovative operator in India! But Now A Days the prices are high,But still like to stick with them.
12.Operator:MTS|Customer Name:Chaitanya das| Circle:West Bengal:Always give special recharges like full talk time and more talk time, and the best voice quality, 2g net quality and also lowest tariff.
13.Operator:Reliance | Customer Name:PRAKASH WADEYAR | Circle:Karnataka:Network quality matters more than call rates, and I'm getting best cdma network.
14.Operator:Aircel |Customer Name:Jayant Bedwal |Circle:Rajasthan:Once I was roaming in bangalore and somehow i was not getting on Aircel network instead i was roaming on Vodafone, so even after having the roaming pack i was not able to get its benefits.So i complained to the team and one of their representative visited me and solved my problem as there was something wrong with my device.So even though i was prepaid subscriber, the concern they showed was awesome and that's the reason i have added 6 to 7 customers on their network by telling all my relatives and friends to opt for Aircel.Even if someone still ask me which network to prefer I always suggest Aircel. Its great to be subscriber of such a network.There have been other instances of activation of unwanted services and every time, if it was not my fault I have received my full money back. With other companies the day I take a sim I turn on DND but that's not the case with Aircel because I trust them that no unwanted services will be activated.
15.Operator:BSNL/MTNL | Customer Name:SANJIB BANERJEE | Circle:Kolkata:my network present all over India, Kashmir to kanyakumari ka.
16.Operator:Idea Cellular | Customer Name:kunal vashishtha | Circle:Haryana:I every year get personalized wishes from Idea Cellular . Like b'day wishes , new year.
17.Operator:BSNL/MTNL |Customer Name:Anilkumar |Circle:Kerala:No gimmicks, no hidden agenda, no unwanted calls
18.Operator:BSNL/MTNL | Customer Name:Ranajit Singh | Circle:West Bengal:Indian National Network.Average Service throughout India.No Unwanted Deductions.Transparent Plans.Responds quickly to my service requests.
19.Operator:Reliance | Customer Name:Amit Dutta | Circle:Mumbai:B'day wish .Fast resolution of issue no wait for connecting to cc team when calling customer care number .After issue is solved call from Applet desk to verify issue been resolved or not.
20.Operator:Airtel | Customer Name:rachit | Circle:Delhi:Best retention plans n team …..Airtel u rock;)
21.Operator:Airtel | Customer Name:Shivang Singh (SS) | Circle:Delhi:Awesome network, best QoS and everything from scratch. Best Customer care team and of course twitter. Costly tariffs doesn't matter me!
22.Operator:Airtel | Customer Name:Rajat Tyagi | Circle:Delhi:very caring company, listens to all complaints and requests, provides best services and tariffs. quick and prompt response to customer requirements. has everything a customer wants. wonderfull experience.
23.Operator:BSNL/MTNL | Customer Name:Suku |Circle:Kerala:Just love it. Excellent coverage, moderate 3G,lowest tariff compared to other operators. And that too, without STv. The 139 Internet pack and 135 call pack is enough for a month!
24.Operator:Airtel | Customer Name:parag |Circle:Maharashtra:B'day Greetings,Festival Greetings,Network available most of the places
25:Operator:Idea Cellular | Customer Name:Vishal Jain | Circle:Uttar Pradesh (West):its strong network. clear sound quality, no call drops, good customer care service, USSD service (self help care).
26:Operator:Vodafone IN | Customer Name:Praveen |Circle:Tamil Nadu:very much dedicated CC , helps out in every way possible and of course wishes me on my birthday 🙂
27:Operator:Airtel | Customer Name:Kapil Gupta | Circle:Delhi:Best Customer Care, Best Network, Best Internet Experience. I am saying this after trying every network.
28:Operator:Airtel | Customer Name:Jayson Gopi |Circle:Mumbai:Network, never had any problem, easy to switch plan and easy to get details of balance deduction.
29.Operator:Airtel | Customer Name:Sreedhar | Circle:Andhra Pradesh:What can i tell about Airtel… ITS JUST AWESOME!!! the best network quality, they provide me free calling STV's, lower data charges and many more.My friends always say, why Airtel gives offers to me and not to them.Its totally like, Airtel, makes me feel like i am special to them.
30.Operator:Aircel | Customer Name:marshal | Circle:West Bengal:as i m a student , i need Cheap offers. network availsble at my place… & i am getting.
31.Operator:Uninor | Customer Name:JIGAR PATEL | Circle:Gujarat:We can start any offer through COMMON no. *222*7* no. # USSD balance is my main reason to stick with uninor and even in National roaming we can start and stop any service my reason to stick with Uninor
32.Operator:BSNL/MTNL | Customer Name:PT Ghansham sharma | Circle:Maharashtra:best for common man…BSNL/MTNL
33.Operator:Aircel | Customer Name:Imon| Circle:Kolkata:sends me daily tips ,,jokes ,, free net when i hvnt a net pack
34.Operator:Reliance Mobile | Customer Name:Shyam |Circle:Kerala:Tariff, Transparent Billing, The Network that is Available 24/7*365*11 Yrs. No Congestion faced in making calls till date, No call Drop, awsome coverage while Roaming & Superior Voice Clarity. Data Speeds 1X & then EVDO never gone below the benchmark.Also The Only operator That Provides the Specials packs Atleast for 6 Months, unlike Airtel,voda & idea who pull back the packs after getting the customer.
35.Operator:Airtel | Customer Name:Abrar Shaikh | Circle:Gujarat:I have been Airtel customer (mobile & Digital TV) since last many years and what I have noticed that over the years they have constantly improved their information systems to give more personalized user experience.Moreover they have always listened to what I have written to them in the past and also sent me a gift as a goodwill gesture a couple of times. I still remember that in 2005 an ICICI bank credit card was offered to me by Airtel under their agreement with ICICI.Also there are hardly any annoyances such as unwanted VAS activation, QOS, network congestion etc.However I have been forced to use network of BSNL after launch of 3G because the IDEA network which Airtel uses for providing 3G services in my area isn't very good.
36.Operator:BSNL/MTNL | Customer Name:hakshul Saroop V M | Circle:Kerala:Network Coverage Every Where I Go.From Town To Rural Villages, Forests,Mountains Every Were I Never Loss the network 🙂
37.Operator:Idea Cellular | Customer Name:Abhijit Sandhan|Circle:Maharashtra:Good Network, no false deductions or VAS activations, prompt and satisfactory response to the issues raised via email.Once I recharged with my idea my offer 124rs. 3G which was going to provide 1GB instead of 375MB. but I don't got 1GB, raised complaint via phone but nothing happened. After that, dropped an email to Idea team and got rs, 249 3G 1GB recharge done by them as privileged customer.After some days, emailed them raising concerns about not getting postpaid deposit even after 60days of post to pre migration. Within next 3 working days got an email stating apology and refund was processed. got the check within 6 days. The email team understands, works on the problem and then replies. This is really great! never got such good support via email from any operator.
38.Operator:Airtel | Customer Name:rahul psnishap | Circle:Haryana:Quality and dedication
39.Operator:Airtel | Customer Name:Shameer | Circle:Kerala:They never took a single penny without a reason causing me problem with them. The quality of service is excellent that I never had major issues in the network! Also Airtel supports to develop football in India than Cricket and they are official sponsor of my favourite club Manchester United.
40.Operator:BSNL/MTNL | Customer Name:Sujith | Circle:Karnataka:Very good coverage, helped me in some resorts inside forest where other operators doesn't have coverage. The tariffs were very low if you know all the stvs and facilities they provide. Other customers complain since they are not aware of the complete tariff provided by BSNL and BSNL is very poor in marketing. Customer service center once converted my prepaid to postpaid within a day in 2001 when I have to travel to north states the very next day. In my home when the internal coverage was poor I complained to the higher officials and they tried their best by adjusting the transceiver direction and they interacted with me with very great respect as a customer
41.Operator:BSNL/MTNL | Customer Name:Khaleel | Circle:Kerala:No unwanted VAS activation.No promo calls.Owned by govt.Transparency in operation and billing and services.Good tariff and better 3g packs.No *conditions apply stuff.
41.Operator:Airtel | Customer Name:Ved | Circle:Madhya Pradesh:Its only network that never glitch and best QOS ,no beeps in calls,even in moving conditions specially in trains most of the times your network is full and net connectivity is best in moving conditions it provides 0 buffering in videos on cellphones,USSD service is updated on daily basis,Airtel Money is awesome service from Airtel .Thanks Airtel for the awesome network and services
42.Operator:Reliance CDMA | Customer Name:Joji | Circle:Kerala:Network has never let me down. Voice clarity, No call Drops. And no Complaints. No issues faced while roaming & not Billing issue Ever faced. Hats Off to Reliance CDMA
43.Operator:BSNL/MTNL | Customer Name:Simon D | Circle:Tamil Nadu:No Fake advertisement.Giving alert SMS about tariff change on particular days
So, it can be concluded that Customers are more Loyal to their Networks which are giving them the services they require considering their personal usage patterns like (Students requires cheap tariff,Business man require Quality and service and so on) and hope our Network Operators also listen user's voice and plan Network/Tariff accordingly while improving their Business and customer base.
If you haven't checked the earlier post for Poll, check it here.
Hope you enjoyed reading all the comments and if there is anything we have missed out to voice let us know via comments. You can also still voice out your opinions in the comments section.
PS:It took us nearly 12 long hours at a stretch for coming up with this poll result and we hope it's worth a read/share.Do let me know your opinion,I'm happy to hear.