AIRCEL, India's leading GSM Mobile services operator with 50 million customer base; announced the launch of Android based smartphone 'IDEOS' for just Rs.8499 in association with China based mobile and telecom equipment major, Huawei.
The operator also offer Free Pocket Internet bundalled with the handset for its Prepaid and Prepaid subscribers up to 2 GB data usage at 2G speed.The IDEOS is available in all Aircel Stores / outlets across India.
IDEOS will run on the latest iteration of Android 2.2 (also known as 'Froyo') and it has a 2.8-inch 240×320 capacitive touchscreen and 3.2 mega pixel camera, brightness, proximity and accelerometer sensors and powered with a 528 MHz processor.
The ergonomically designed IDEOS provides a variety of ways to access the Internet, as it boasts downlink speeds of more than 7.2Mb/s, offers UMTS/WCDMA + WiFi dual network support, and offers ubiquitous mobile broadband services. The device also doubles as a WiFi router for up to eight devices at a time, making IDEOS an all-in-one solution for a range of wireless connectivity options.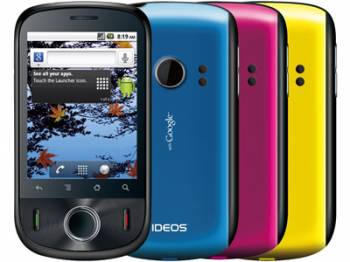 Available in black, yellow, blue, and purple, the IDEOS, with Android 2.2 pre-installed, not only runs fast, but also supports functions such as voice dialing, voice navigation, and the ability to run applications off the SD card. With more than 70,000 applications available in the Android Market,
IDEOS provides a wide range of communication, entertainment, office, and financial management applications.The connectivity options also include Bluetooth and navigation (GPS) support.