Cellular service providers who are said to work towards protecting their wafer thin margins, often resort to variety of tactics which are sometimes unethical. One such practice was brought to our notice by one of our readers Mr. Dhananjay. He highlighted issues with Aircel where their website listed some exclusive offers but were not available for use. When he brought the issue to Aircel's notice they were unapologetic in this regard!
What is the Issue?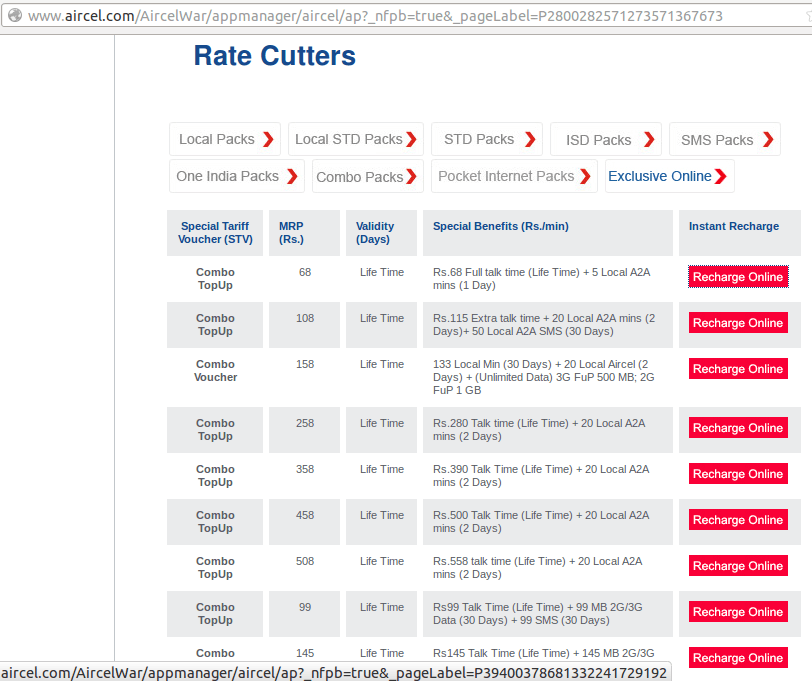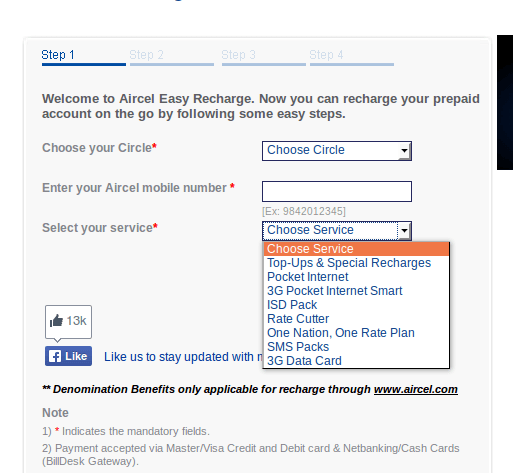 Like any other mobile operator, Aircel reportedly offers certain combo packs as exclusive online recharges - or at least that's what their website says. Like any budget conscious customer, Dhananjay wanted to opt for a certain rate cutter and clicked on 'Recharge Online'. To his surprise these exclusive online recharges were not showing up in Aircel's own recharge portal!
We were also taken by surprise when we tried the same from our end. Dhananjay contacted Aircel's customer care and Appellate Authority by email. Later after calling Aircel, it was clarified on phone calls that the plans were yet to be launched! On being questioned about the rationale behind this, Aircel promised Dhananajay that they would to get back to him at a later date. Now after several days on  March 3, Aircel's Appellate authority replied with the same information - the plans are put up for informational purposes only!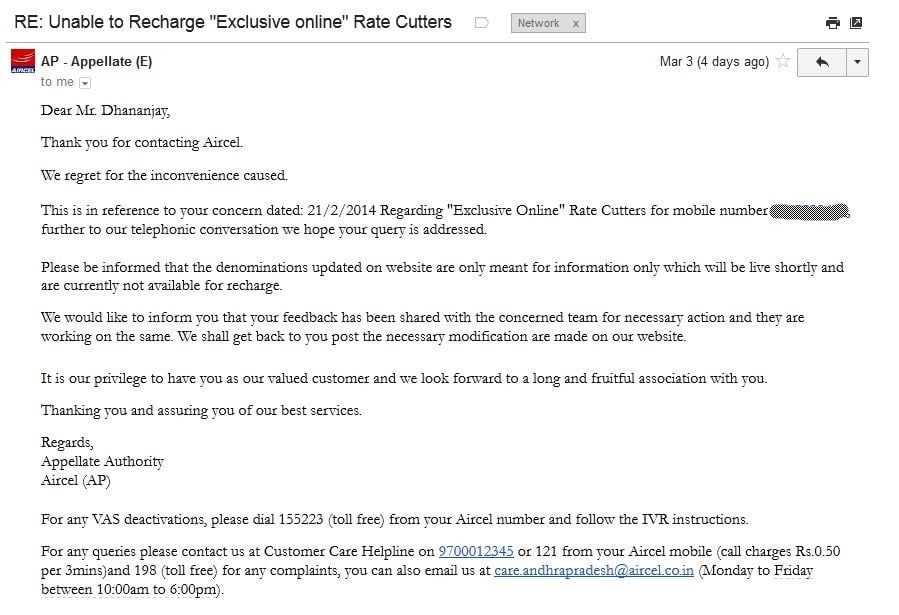 Our Questions to Aircel
Like Dhananjay even we are unable to understand the rationale behind exhibiting non-existent recharge options. Even if we give Aircel a benefit of doubt by believing what they say would be live soon, it must not take beyond 10 days. This communication was initiated on 21 Feb with Aircel and even today at the time of writing the options are not available! This makes us think if this is a deliberate attempt from Aircel to attract new customers! To explain further, say you move to a new city in another state. Despite of free roaming plans available, you will prefer taking a local mobile connection for pocket friendliness! Your obvious destination would be all mobile operators websites. If official websites fail to provide right information where else to find it then? If there was indeed a thought to launch the plans Aircel should have launched it after bringing the issue to their notice or put up a footnote below!
Readers, did you notice such attempts to mislead customers/prospective customers by mobile operators? If yes, do let us know.