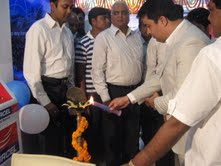 Aircel has opened its new COCO at Mangalabazar, Jharsuguda.
On the opening day of COCO, Mr. Vikas Kakwani, Circle Head, Odisha(CBH) said- " The purpose of opening COCOs in different districts of Odisha is to provide value-added service to the subscribes and to bring synergy in its operations across the state."
With subscriber base of over 50 million, Aircel has currently gained a momentum in the space of telecom in India.
The Company currently has base in 23 circles across India. It holds the highest amount of next generation spectrum amongst all telecom operators in India.