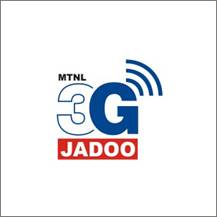 With more of a whimper than a bang, Mahanagar Telephone Nigam Ltd (MTNL) launched India's First 3G mobile service in Delhi telecom circle.The high-profile launch reflects MTNL's concerns over the range of content and terminals that the 3G service offers.
Known as MTNL 3G Jadoo,the service is now available in Delhi for high-end users only. According to the announcement bu company, It has plans to launch the service commercially by January-2009 .Based on the UMTS (Universal Mobile Telecommunications System), MTNL 3G Jadoo will have a theoretical maximum data transfer speed of 7.2 MBPS.
So what does 3G mean to subscribers?
High speed internet on mobile 256 Kbps to 2 Mbps.

Live Tv.

Video Telephony (Video Call/Video SMS).

Location surveillance.

Streaming Video on Demand.
The high-speed service is packet-based,which means users pay according to the amount of data sent and received.Still they are working on the plan details.Jadoo will also be available for users with PC card data modems.
A trouble-free launch and successful take-up of the service is vital for MTNL,which is starting to see slower growth.The mobile phone market is growing at a pace faster than what is expected,economic slowdown is not driving the business as much as last year.MTNL is looking Jadoo to take up the slack and,if all goes well,lead to an increase in subscriber revenues.