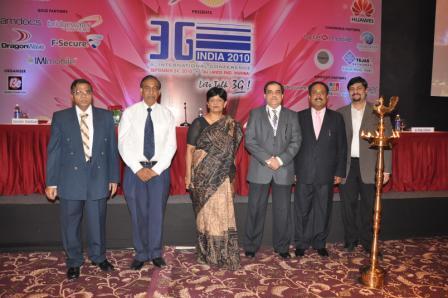 BWA and 3G have potential to transform the character of Internet/ broadband scenario in India.
On one hand, BWA will overcome the key hindrance of problem of 'Right of Way' in India, on other hand 3G has the potential to make the mobile phone, a ubiquitous device for accessing faster internet said, Smt. Vijayalakhsmi Gupta Hon'ble Member (finance), Department of Telecom – Govt. of India while inaugurating the 3G INDIA 201O held today at Taj Lands End – Bandra West, Mumbai.
"3G Technology will drive the next round of sustainable growth for the Indian market through convergence of entertainment, infotainment and voice communications into one single device. The key drivers for the growth of 3G in India will be innovative content, improved customer services and increased affordability of handsets. These drivers will help ensure growth of 3G not just in urban areas but in rural areas as well". She further added.
6th edition of '3G India 2010' offered a powerful forum to understand what service will provide the most value to the user and also the technical & policy issues that need to be considered to ensure the success of the 3G strategies in India. It addressed how money will be made out of delivering 3G services and how revenues generated should be shared between the various parties involved.
The conference attracted business delegates from Wireless and Fixed Carriers, GSM Operators and Service Providers, CDMA Operators and Service Providers, Handset Manufacturers, Network Device Manufacturers, Virtual Mobile Network Operators (VMNOs), Wireless Deployment Companies (Hot-Spots, Rural, Aggregators etc.),Chip Manufacturers, System Integrators, Internet Service Providers (ISPs) ,Application Service Providers (ASPs),Application Developers ,Content Providers & Value Added Services Providers, Multimedia Services Providers, Content Owners & Aggregators,(OEMs) 3G Terminal and Network Infrastructure Providers ,Payment and Security System Providers ,Other Fixed And Mobile Professionals, DOT, DIT, Ministries & Regulatory; Service Organizations.